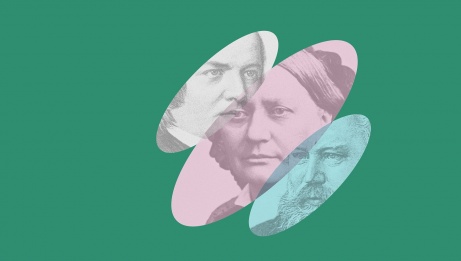 Special Events
Music
Classical music
Electronic
Festival events
After the final concert of FOCUS: Clara, Robert, Johannes, join us in the NAC Canal Lobby for an electrifying night of music and celebration. FOCUS ends on a high note with the exclusive release of the NAC Orchestra's new album, Clara, Robert, Johannes: Romance and Counterpoint.
Don't miss out on that celebration as we conclude FOCUS and the Clara, Robert, Johannes recording project with a grand finale, celebrating giant composers and setting the stage for our groundbreaking new album.

**Album Release and Exclusive Box Set Edition**
FOCUS festival will culminate in a remarkable event as Alexander Shelley and the NAC Orchestra conclude their acclaimed Clara, Robert, Johannes recording project, which encompasses major works by Clara Schumann, as well as the complete symphonies by Johannes Brahms and Robert Schumann, exploring the personal and artistic connections between these three giant composers.
The fourth and final album Clara, Robert, Johannes: Romance and Counterpoint unites performances by Angela Hewitt and other guest artists of Clara's Romances for violin and piano Op. 22 and rarely heard solo piano pieces alongside the fourth symphonies of Robert Schumann and Brahms.
Grab your copy at the festival and be among the very first to listen before its official worldwide release.
That's not all! A very limited-edition box set, collecting all four albums in this series, will be available ONLY at the NAC, and only during the FOCUS festival.
**Canal Lobby Stage: Live DJ Set**
Be prepared to move and groove as a guest DJ creates an original mix of tracks incorporating the Orchestra's Clara, Robert, Johannes recordings into a seamless blend of bumping beats and captivating melodies.
**Meet and Greet with Artists**
Get up close and personal with Alexander Shelley, NACO musicians and guest artists. Have your albums signed, and seize the opportunity for unforgettable photo ops.
**Cupcake Delights, Refreshments and Drinks**
Indulge your taste buds with an array of delectable desserts by the 1 Elgin Restaurant team, served fresh and free for all attendees! Pair these sweet treats with a glass of our special FOCUS cocktail that night.