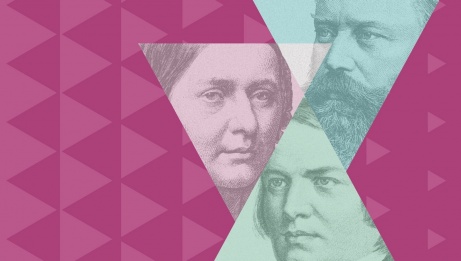 Music
Classical music
Talks
Pre-concert Talk
Festival events
"The tangled web of personal and artistic ties that bound this extraordinary trio of musicians continues to fascinate to this day. The Schumanns were artistic colleagues whose ongoing conversations about music spilled into their works: their music sounds an endless dance of references and allusions to one another's compositions... a dance which Brahms also entered." Julie Pedneault-Deslauriers
In-person event

Français

≈ 45 minutes · No intermission
*This conversation will be bilingual but predominantly in French.
Jean-Jacques Van Vlasselaer has a double career as an academic (Carleton University 1970-2011 and the University of Waterloo since 2011) and as a music critic and writer (Le Matin 1962-1968 ; Le Droit 1972- 2015). He has recorded as yet more than 80 podcasts for the NAC in three series : one on the history of the music directors of the NAC orchestra; one on the history of Canadian composers; and one ongoing on the great works of classical music. He has written more than 3500 articles on music at concerts and about 80 academic articles. He has introduced concerts for the NAC since 1973 and has given a great number of public lectures on classical music (especially Mozart, Schubert, Schumann, Brahms, Wagner, Bruckner) and in particular on Mahler and on the rejected music between 1933 and 1953 and music in the concentration camps.
Julie Pedneault-Deslauriers is an Associate Professor of music theory at the University of Ottawa's School of Music. Her scholarship centers on Clara Schumann, relationships between poetry, literature, and music, and the Second Viennese School composers. She has given numerous pre-concert talks and hosted concerts for the Ottawa Chamberfest, the National Arts Center Orchestra, and the Ottawa Symphony. She has been working with Maestro Alexander Shelley and the National Arts Centre Orchestra team on a 4-cd set on the music of Brahms and the Schumanns (Analekta), the third of which was released in the Spring 2023.
***
Pre-concert talks at Peter Herrndorf Place in the National Arts Centre are free and open to the public.
Consult our event calendar for the full lineup of concerts, talks and events in the NAC Orchestra's season-opening festival, FOCUS: Clara, Robert, Johannes.
***
This talk pairs with the following events: