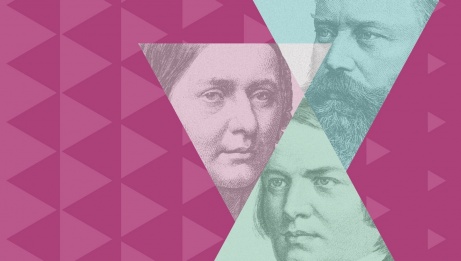 Music
Classical music
Talks
Pre-concert Talk
Festival events
"How all that turmoil played out... Brahms marked for life by Robert's prophecy, finally distancing himself from Clara though she remained the love of his life—is one of the most significant and compelling stories in music of the 19th century." Jan Swafford
In-person event

English

≈ 45 minutes · No intermission

*This conversation will be predominantly in English.

Composer and writer on music, Jan Swafford is the author of biographies of Ives, Brahms, and Beethoven. His journalism appears regularly in Slate. He is a long-time program writer and pre-concert lecturer for the Boston Symphony and has written program notes and essays for the orchestras of Cleveland, Chicago, San Francisco, and Toronto.

Hannah Chan-Hartley is an exciting musicologist who specializes in communicating about music to audiences in rigorous, engaging, and innovative ways. Often acting as a bridge between the classical music industry and academic settings, she's active as a writer, speaker, program book editor, content producer, and instructor with various organizations, including Canada's National Arts Centre Orchestra, Detroit Opera, and the Barnes Foundation in Philadelphia.
***
Pre-concert talks at Peter Herrndorf Place in the National Arts Centre are free and open to the public.
Consult our event calendar for the full lineup of concerts, talks and events in the NAC Orchestra's season-opening festival, FOCUS: Clara, Robert, Johannes.
***
This talk pairs with the following events: