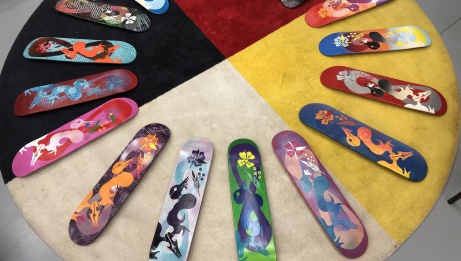 Indigenous arts
Exhibitions & installations
Visual Arts
Urban Aboriginal Alternate High School Program and Norman Johnston Alternate Program, in partnership with the Eastern Ottawa Resource Centre, Odawa Native Friendship Centre, Birling Skateboard Shop, and The National Arts Centre present:
Students from Urban Aboriginal Alternate and Norman Johnston Alternate have come together through a shared spirit of artistic expression, collaborative learning, and helping others in our community. They have created an outstanding set of personal boards and collaborated with local Métis artist, Jaime Morse, to create skateboards that are being given to Indigenous youth in need in Ottawa. In addition to the valuable cultural exchange between these two programs, this project has provided students with the opportunity to develop hands-on skills in woodworking, design, painting, drawing, and leadership.
The display will be up from 6pm - 10pm.