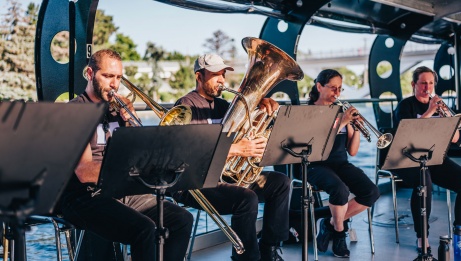 Music
Classical music
Summer events
Let us provide the soundtrack as you walk, run, bike or rollerblade along the canal. Every Thursday evening and Saturday afternoon, members of the National Arts Centre Orchestra or a popular band will play aboard our showboat as it cruises the Rideau.
The concert will begin at the Paul's Boat Line docks located on the Rideau Canal outside the NAC, under the Rideau Street Bridge. The boat will arrive at Dow's Lake approximately 45 minutes later and then return back. The entire trip is 90 minutes, and the concert will take place on the boat while it is moving.
Tips and tricks for enjoying Music on the Canal
We recommend you find a spot along the canal, not at the starting point at the NAC, where you will be able to hear the boat as it approaches and then continues down the canal.
Bring a picnic to your favourite canalside spot and enjoy the music as it passes by.
If you want more than a glimpse, you can cycle along to keep up as the boat moves faster than a walking pace.