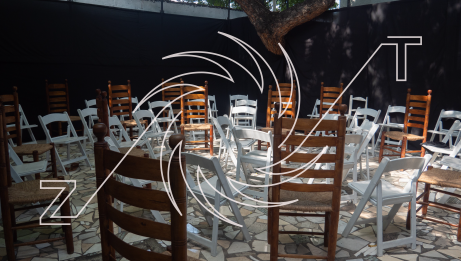 Special Events
Francophone
Theatre
An extraordinarily ambitious theatrical project from Guy Régis Jr, a prominent playwright and pillar of the Haitian theatre scene, who is interested in the underpinnings of human conflict, the impulses of hatred and destruction that lie within. A vast analytical field where the great abject wars intersect with the social, sexual and racial discrimination of everyday life. Is there a way out? By unravelling the mechanisms of evil, can we release the light that unites us?
Quel dernier grand conflit pour satisfaire la haine entre les humains… is a sweeping, uncommonly lucid text, chiseled into tableaux. Following the launch of Transfrontaliers ("crossing borders") international collaboration network in 2019, this large-scale project has already evolved through two creative laboratories (at the Villa Medici in Rome, and at Théâtre Prospero in Montréal). For this creation phase in Ottawa, which will precede stops in Sweden and France, Guy Régis Jr will assemble a team of Haitian and Ontarian artists and Canadian thinkers. Zones Théâtrales is proud to offer a window on this work, which interweaves multiple visions of the theatrical form. As we navigate a crisis of living together, Guy Régis Jr invites us more than ever to make theatre a place of catharsis, sharing and community.
---
Founded in 2001 by Guy Régis Jr, NOUS Théâtre is an experimental theatre company based in Haiti and France. It is particularly interested in bringing together actors and members of the public in unconventional performance spaces (streets, university courtyards, markets, etc.).
Writer and director Guy Régis Jr is the artistic director of the Festival Quatre Chemins, a major artistic event in Port-au-Prince. He was named a Chevalier of the Ordre des Arts et des Lettres de la France in 2017 and was promoted to the rank of Officier in 2021.