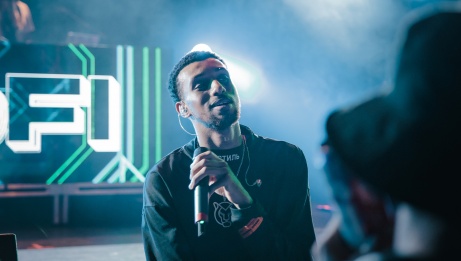 Special Events
Music
Hip-hop
R&B
Soul music
In-person event

Bilingual
Meet active industry professionals and network with musicians, artists and people making moves in the music business.
The three-day music event will connect active industry professionals with musicians, artists and people making moves in the arts and entertainment business. The weekend will feature networking sessions, information panels with music professionals, and a showcase featuring some great emerging talent.
MAKE SURE TO REGISTER – ADMISSION IS FREE!
* * *
Meet the Cranium Team
1 pm - 2 pm
NAC, 1 Elgin St. (Peter A. Herrndorf Place)
A great opportunity for anyone wanting to network and meet the Cranium team. Find out how to get on future events and ask anything you have been wanting to know. Come meet and hang out with the squad!
Hey DJ!
2 pm - 3 pm
NAC, 1 Elgin St. (Peter A. Herrndorf Place)
DJs are an ingrained part of the Hip-Hop and R&B music landscape. From working with a DJ for a live show to playing music in clubs, on radio or in other venues, artists need DJs. The way music reaches audiences has been changing at a rapid pace. This panel discussion will take a look at the role DJs play in bringing records to radio, live events, and will explore the importance of a DJ in a live performance.
Moderator: TBA
Expert Panel: The Kid Gorgeous, DJ Mo Beatz, Jon Deck,
Sync Inside Workshop
3:00 pm - 4:30 pm
NAC, 1 Elgin St. (Peter A. Herrndorf Place)
What is the sync market? Who are the players you need to know and deal with and why? How can you be successful in making and licensing music for every form of media? And how do you present yourself to music supervisors?
Facilitated by Michelle Allman-Esdaille (The Hook Sync)
Keynote Interview
4:30 pm - 5:00 pm
NAC, 1 Elgin St. (Peter A. Herrndorf Place)
Join us for an intimate discussion with one of the industry's greatest minds.
Advanced Song Mixing Masterclass
5 pm - 6 pm
NAC, 1 Elgin St.(Atelier)
Born Dereshean Jarret, OTR is a Toronto-based audio engineer, DJ, and producer. His talent and dedication to his craft have earned him high recognition over the course of his career, and built up his resume to include working with Jhené Aiko, DVSN, COLORS Studios, Mercedes-Benz Canada, Reebok Canada, and many more.
Whenever asked about his journey, he is quick to credit his heritage and childhood exposure to Jamaican culture as the introduction and initiation to his first love, DJ'ing. His experiences growing up among solo music artists then introduced him to the intricate world of music production. Inspired by what he witnessed, he dove into formal education and mentorship. Learning the ropes and polishing his skillset, he would eventually graduate from both Trebas Institute, and The Remix Project. Now years later, he continues to collaborate with his clients executing their visions, and elevating their music to the highest level.
Facilitated by Dereshean Jarret – MixedByOTR