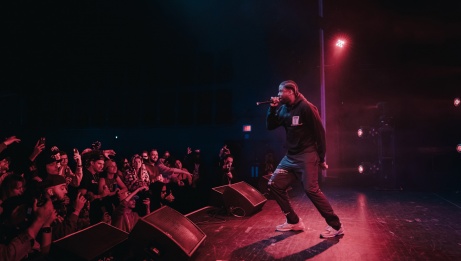 Special Events
Music
Hip-hop
R&B
Soul music
Workshops
Professional Development
Talks
In-person event

Bilingual
Meet active industry professionals and network with musicians, artists and people making moves in the music business
The three-day music event will connect active industry professionals with musicians, artists and people making moves in the arts and entertainment business. The weekend will feature networking sessions, information panels with music professionals, and a showcase featuring some great emerging talent.
MAKE SURE TO REGISTER – ADMISSION IS FREE!
* * *
Face the Music – Music and Creative Industry Facilitated Networking Session
5 pm - 7 pm
NAC, 1 Elgin St. (Peter A. Herrndorf Place)
During this session invited music related support organizations will talk about the services they offer and conference attendees will have a free opportunity to network with important industry professionals to help elevate their music career.
Secure the Bag Grant and Funding Workshop
7 pm - 8 pm
NAC, 1 Elgin St. (Atelier)
Facilitated by Kingsley Swim and Martyna Turczynowicz

A free admission, 60-minute crash course + question period to demystify grant writing for music artists and management navigating public funding opportunities across Turtle Island.
8:30 pm
NAC, 1 Elgin St. (Fourth Stage)
Born and raised in Ontario, Canada, Mischa is a Hip-hop artist reigning from Ottawa, the nation's capital. After countless dedication to her music, collaborating with various artists, and releasing intoxicating melodies that you couldn't forget if you tried, Mischa has found an intriguing way to dip into the realm of Hip-hop, while illuminating components of the Contemporary R&B spectrum. Her fortified persona shines through every word she pens, as she embodies an unapologetic personality, bringing life to her lyrical dexterity through a knack for word play. With several projects currently out including the award-winning visuals for "G2G," taking Video of the Year at the 2022 Capital Music Awards, Mischa continuously finds a way to engage and connect with her audience through high energy performances and vibrant lyricism.
Tickets for Mischa's show must be purchased on the NAC website.
This talk pairs with the following events: