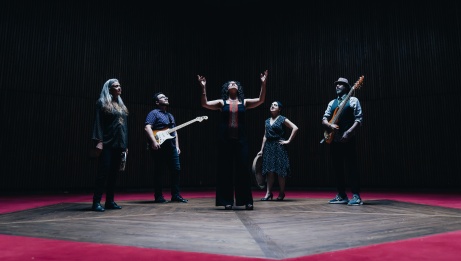 Music
Global music
Folk
Summer events
Singer and bandleader Aviva Chernick brings movement, song, and story to every offering. Reimagining traditional Judeo-Spanish folk music with intimacy and emotional range, Aviva and her band bring this musical legacy into the present.
Aviva's soaring vocals in Ladino, as well as Hebrew, Yiddish and English, combine with the musical talents and vocals of the accompanying band: the textural, reverberant guitar, oud and keys of Demetri Petselakis (Greece), the deep grooves of Waleed Abdulhamid (Sudan) on bass, the virtuosic Persian hand percussion of Naghmeh Farahmand (Iran) and the sublime vocal harmonies of Maryem Tollar (Egypt).
Aviva was the first Canadian to be awarded a Virginia Folk Life apprenticeship to study with 'American National Treasure' and Sephardic musician Flory Jagoda whose music she celebrates in her most recent album, La Serena. As a leader of her own ensembles, Aviva has toured internationally, and recently as a guest of the Canadian Ambassador to the UAE at Expo in Dubai.