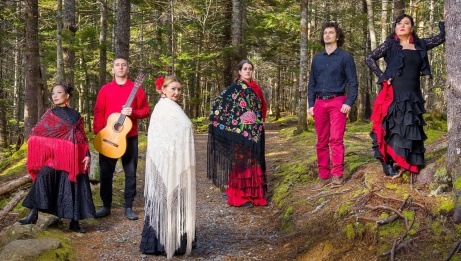 Music
Global music
Dance
Summer events
Step into a world of passion, rhythm, and soul-stirring performances as Flamenco en Rouge presents their latest creation, Camino, bringing you an unforgettable fiesta like no other.
Camino is more than just a performance—it's an multimedia experience that delves deep into the universal themes of identity and belonging. Through the power of dance and the pulsating beats of flamenco drumming, Flamenco en Rouge takes you on a heartfelt exploration of the human experience. Inspired by the poignant stories of migration and exodus, Camino reflects the resilience, courage, and passion that define us all.
Witness the seamless fusion of ancient flamenco techniques with cutting-edge visuals, creating a sensory feast for the eyes and ears. With every move and every beat, Flamenco en Rouge paints a vivid tapestry of emotions, transporting you to a world where passion knows no boundaries.
Get your tickets now and embark on a journey that will leave you spellbound, inspired, and yearning for more. Don't miss out on this summer's hottest fiesta at the NAC!