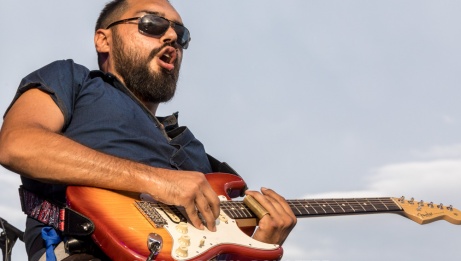 Indigenous arts
Music
Rock
Blues
In-person event

English

≈ 40 minutes · No intermission
Join us Thursdays this spring for Jukebox Lunchtime Concerts, a free music filled midday break in our sun-filled public spaces. With great selections of music and no coins needed, it's a perfect way to refuel for the rest of your day.

This week's Jukebox artist is Lyle Odjick and The Northern Steam:
Originating from the Algonquin reservation of Kitigan Zibi, QC, now based in Ottawa, ON, Lyle Odjick went from living in a small town with very little exposure to blues or live music to teaching himself harmonica, starting his own blues band and eventually earning a nomination in the Canada wide Maple Blues Awards for New Artist of the Year in 2022.
What began as a Chicago blues cover band with a fat swinging rhythm section and a harmonica wielding front man has evolved into a high energy blues-rock band with their own foot stomping sound. The release of debut album Through The Rain in 2022 was met with North American wide radio play landing in The Roots Music Report's Top 50 Canadian Albums at #6 in it's third week on the charts. In the blink of an eye Odjick went from strumming in a small town to opening for heavy hitting acts such as Colin James, Randy Bachman, Monkeyjunk and Paul Reddick.
Whether they're showcasing their original blues-rock material or performing a modern take on a Chicago blues classic, Lyle Odjick & The Northern Steam never cease to turn heads at every venue they play.