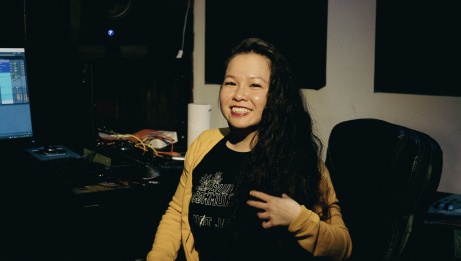 Music
Singer/Songwriter
Hip-hop
In-person event

Bilingual

≈ 40 minutes · No intermission
Join us Thursdays this spring for Jukebox Lunchtime Concerts, a free music filled midday break in our sun-filled public spaces. With great selections of music and no coins needed, it's a perfect way to refuel for the rest of your day.

This week's Jukebox artist is King Kimbit:
King Kimbit is a literary Hip-Hop artist born and raised on unceded Algonquin territory (Ottawa), passionate about empowering and encouraging youth, community care, and sharing love through writing, reciting, and the abolition of punitive, carceral institutions.
King has performed solo and as part of ensembles in music and theatre across Turtle Island, Jamaica, and Vietnam. Since 2018, she has teamed up with Jo-Anne Bryan, Carmelle Cachero, and Jordan Samonas, as a writer and the vocalist of their group, Speaking Vibrations.
In 2017 King released her debut album Life Lessons Poetically, a collection of musical poetry in collaboration with artists locally and abroad. Her new project, Healing Trauma From The Projects, will be dropping in the coming year.