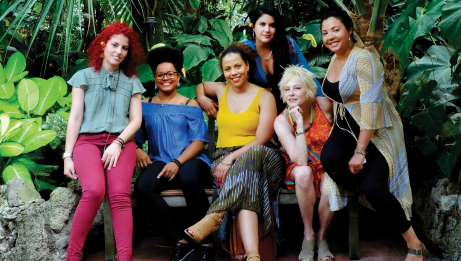 Five-time Juno Award winner, Jane Bunnett has turned her bands and recordings into showcases for the finest musical talent from Canada, the US, and Cuba. She has been nominated for three Grammy Awards, received The Order of Canada, The Queen's Diamond Jubilee Medal, and, most recently, The Premier's Award for Excellence.
Maqueque came out of a jam session at the Cohiba Hotel in Havana that introduced renowned Jazz musician Jane Bunnett with young women musicians and composers who had recently graduated from the Cuban conservatory. Over ten years the band has created opportunities for composing and performing extraordinary Jazz that has taken this all female ensemble around the world and has expanded to include not only women players from Cuba, but also brilliant vocalist Joanna Majoko (from Zimbabwe) and has had musicians from the Dominican Republic, Latin America, Spain and Lebanon.
The band has won a Juno Award, was nominated for a Grammy and annually tours Europe, Latin America, the US and Canada. Downbeat Mag picked this group as one of the Top Ten Touring Groups of 2019. NPR has featured the band in specials and they have done a Tiny Desk Concert.
Playing With Fire is a celebration of the 10th anniversary of Jane Bunnett and Maqueque.
"Jane Bunnett and Maqueque utterly shatters the glass ceiling of Afro Cuban Jazz…"
-Jon Garelick, Boston Globe