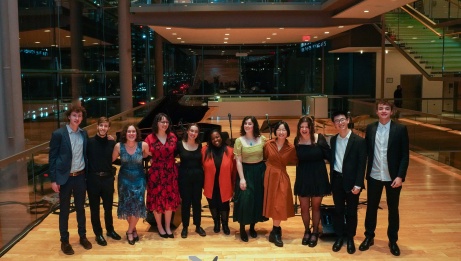 Special Events
Music
Jazz
The National Arts Centre Orchestra presents the 2023 Northern Cadence International Jazz Series : three mini jazz concerts from three schools in three different countries!
The Sibelius Academy in Helsinki, Finland, the Manhattan School of Music in New York, USA, and the Schulich School of Music of McGill University in Montreal, Canada, have prepared 30-minute concerts featuring their faculty and students performing original and standard repertoire together.
Don't forget to register in advance for this Zoom session and to come prepared with your questions.
PROGRAM BY THE SCHULICH SCHOOL OF MUSIC
It's Easy To Blame The Weather
Composed by Saul Chaplin
Arranged by Alison Levy and Margaret Donovan
It Might As Well Be Spring
Composed by Richard Rodgers
Vocalese Lyrics by Marie-Jeanne Paquet
Throw It Away
Composed by Abbey Lincoln
Arranged by Ruiqi Wang
Au Pays de Cocagne
Composed by Laila Biali and Sonia Johnson
Arranged by Charlotte Désilets

QUESTION PERIOD (20 minutes)

McGill Jazz Conglomerate
Alison Levy, Ruiqi Wang, Charlotte Désilets, Marie-Jeannne Paquet, voice
Florence Beauquier-Léger, saxophone
Felix Hartley, bass
Zachary Winter, guitar
Tony Wang, drums
Ludovic Rochon, piano
Camille Thurman and Darrell Green, ensemble coaches

SCHULICH SCHOOL OF MUSIC OF McGILL UNIVERSITY
The Schulich School of Music of McGill University is one of Canada's finest comprehensive music schools known for its excellence in professional training and research. With an outstanding jazz program, Schulich aims to create a place and space for community and creative encounters to bring music to life. Students come from across the country to take classes including History, Jazz Theory and Harmony, Keyboard, Performance Practice, Improvisation, Composition and Arranging with a top-notch faculty.
With twenty student combos and counting, Schulich also has two award-winning jazz orchestras, two rhythm-section ensembles, a jazz choir, and chamber jazz orchestras, with a vibrant impressive jazz voice program to keep an eye on. Students perform traditional and contemporary jazz masterworks, challenging new repertoire that embraces Canadian composers, along with music written and arranged by Schulich students and faculty members throughout their studies.
The McGill Jazz Conglomerate, led by saxophonist and vocalist Professor Camille Thurman, offers a unique opportunity for discovery and collaboration. The arrangements are written by members of this inaugural vocal ensemble, encouraging students to find their voice in a holistic and empowering way. Building on the essential give and take of jazz, these young artists showcase the energy and dynamism of the repertoire.
Join us in these casual jazz encounters where three schools collide and learn from each other. Audience participation is encouraged! Ask your questions in the chat during the live session.
On March 18, the three 30-minute concerts will be featured as a 90-minute concert, presented by the NAC and live streamed from our website and on Facebook.