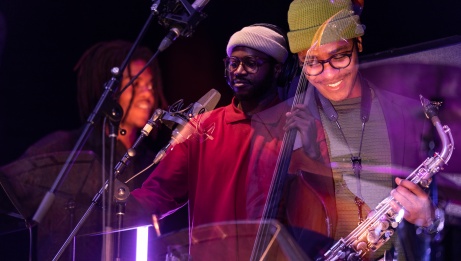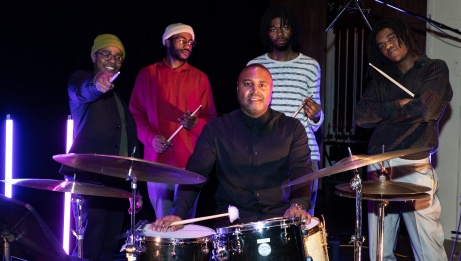 Special Events
Music
Jazz
The National Arts Centre Orchestra presents the 2023 Northern Cadence International Jazz Series : three mini jazz concerts from three schools in three different countries!
The Sibelius Academy in Helsinki, Finland, the Manhattan School of Music in New York, USA, and the Schulich School of Music of McGill University in Montreal, Canada, have prepared 30-minute concerts featuring their faculty and students performing original and standard repertoire together.
Don't forget to register in advance for this Zoom session and to come prepared with your questions.
For its 2023 series, the Manhattan School of Music has chosen as its theme Kith and Ken: Works by members of the band and friends.
PROGRAM
Major Taylor - Cameron Campbell
Court Jester - Cameron Campbell
Unconditional Love - Geri Allen
A Ballad For You - Conway Campbell
Cycling Through Reality - Kendrick Scott
KITH AND KEN BAND
Simon Nyivana, Alto Saxophone
Nicolaus Gelin, Trumpet
Cameron Campbell, Piano
Conway Campbell, Bass
Kendrick Scott, Drums

QUESTION PERIOD (20 minutes)

MANHATTAN SCHOOL OF MUSIC
Founded as a community music school by Janet Daniels Schenck in 1918, today MSM is recognized for its more than 960 superbly talented undergraduate and graduate students who come from more than 50 countries and nearly all 50 states; its innovative curricula and world-renowned artist-teacher faculty that includes musicians from the New York Philharmonic, the Met Orchestra, and the top ranks of the jazz and Broadway communities; and a distinguished community of accomplished, award-winning alumni working at the highest levels of the musical, educational, cultural, and professional worlds.
The School is dedicated to the personal, artistic, and intellectual development of aspiring musicians, from its Precollege students through those pursuing doctoral studies. Offering classical, jazz, and musical theatre training, MSM grants a range of undergraduate and graduate degrees. True to MSM's origins as a music school for children, the Precollege program continues to offer superior music instruction to 475 young musicians between the ages of 5 and 18. The School also serves some 2,000 New York City schoolchildren through its Arts-in-Education Program, and another 2,000 students through its critically acclaimed Distance Learning Program.
ABOUT THE MANHATTAN SCHOOL OF MUSIC JAZZ ARTS
Manhattan School of Music was one of the first conservatories in the United States to acknowledge the importance of jazz as an art form by establishing undergraduate and graduate degree programs in jazz. The program is one of the richest of its kind, combining systematic and rigorous conservatory training with a myriad of performance and networking opportunities in New York City. In addition to a variety of small combos, student ensembles include the LatinX Jazz Orchestra, Jazz Orchestra, and the Jazz Philharmonic. The program is under the leadership of Interim Associate Dean and Director of Jazz Arts and jazz trumpet faculty member Ingrid Jensen.
In addition to studies with a faculty drawn from the highest ranks of the jazz world, students are provided opportunities to play for and observe world-renowned guest artists. Master classes in recent years have been presented by Terrence Blanchard (trumpet), Billy Childs (piano, composition), Buster Williams (bass), Ron Carter (bass), Christian Scott (trumpet), Barry Harris (piano), Stefon Harris (vibraphone), Maria Schneider (composition), Vijay Iyer (piano), Jason Moran (MM '97) (piano), Christian McBride (bass), Jimmy Heath (tenor saxophone), Jon Faddis (trumpet), Gary Burton (vibraphone), and Wycliffe Gordon (trombone).
Every concert season, prominent guest artists are featured with our large ensembles, providing enriched performance experiences for students. Guest artists have included Omar Thomas, Jim McNeely, Jane Monheit, Candido, Dave Liebman, Randy Weston, Joe Lovano, Bob Mintzer, Randy Brecker, Jon Faddis, Paquito D'Rivera, and Miguel Zenón (MM '01).
Join us in these casual jazz encounters where three schools collide and learn from each other. Audience participation is encouraged! Ask your questions in the chat during the live session.
On March 18, the three 30-minute concerts will be featured as a 90-minute concert, presented by the NAC and live streamed from our website..