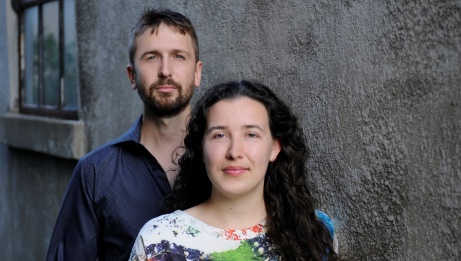 Music
Classical music
Chamber music
Piano
In-person event

Bilingual
Join SHHH!! Ensemble and celebrate the release of their debut album Meanwhile, featuring electrifying new music for piano and percussion by some of Canada's most creative voices.
SHHH!!… a powerful utterance designed to draw attention forward… creating space and awareness… opening ears to something important.
Percussionist Zac Pulak and pianist Edana Higham, the two members of the duo SHHH!! Ensemble, have carved a space for themselves as compelling performers, collaborators, and commissioners of electrifying new music. They have toured across Canada, performing works written for them by both established and emerging composers. A keen taste for experimentation and discovery has guided their "avant-accessible" projects, which they have workshopped at the Banff Centre for Arts and Creativity, the Lunenburg Academy of Music Performance, and the Canadian Music Centre, leading to feature performances at the Tuckamore Festival, Ottawa Chamberfest, Open Ears Festival of Music and Sound, the National Arts Centre #CanadaPerforms series, and a live-for-broadcast performance on the CBC Radio 2 program "In Concert." Upcoming projects include the world premiere of Machines, Mannequins, and Monsters, a new double concerto written for them by Kelly-Marie Murphy, with the Winnipeg Symphony Orchestra. Additionally, as co-artistic directors of the Ottawa New Music Creators, Zac and Edana enjoy curating performances by leading Canadian and international artists in their home base of Ottawa, Ontario.