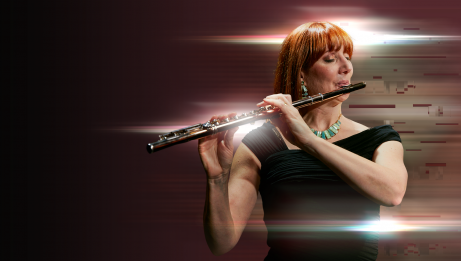 Music
Classical music
Chamber music
BONIS

Suite en trio for flute, violin, and piano, Op. 59

Messiaen Le Merle noir for flute and piano
VALERIE COLEMAN Danza de la Mariposa for solo flute
DOPPLER Concert-Paraphrase on Schubert's Die Verschworenen for two flutes and piano, Op. 18
ELIZABETH BROWN Liguria for flute, clarinet, violin, cello and piano
Martinů

Trio for flute, cello, and piano
Curated by the NAC Orchestra's principal flute Joanna G'froerer, this lively edition of NACO at the Fourth features a spirited confection of chamber music written by brilliant composers past and present.
Among the selections is Mélanie Bonis's utterly contagious Flute en trio, Op. 59, which opens languidly and ends with playful energy. Severely underrated as a composer, she composed under the name Mel Bonis, believing a masculine name would allow her to be taken more seriously. In fact, Camille Saint-Saëns, who praised her chamber music, couldn't believe it hadn't been written by a man!
Messiaen's Le Merle noir (The Blackbird), written with neither time signature nor key, balances tension with peace, and was inspired by the composer's lifelong love of birds and bird song.
Conjuring the flight and fancy of butterflies, and full of rich colours, Valerie Coleman's Danza de la Mariposafor solo flute takes us on a melodic tour of South America.
Composer Elizabeth Brown's Liguria, which she wrote during a residency in Italy in 1999, comprises layers, echoes, and shadows of themes set in a resonant, pulsing sound world.