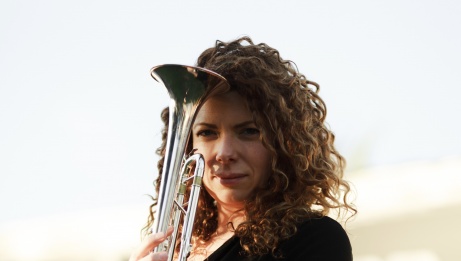 Steph Richards - trumpet, flugelhorn
James Carney - piano, preparations
Brandon Lopez - bass
Max Jaffe - drums
A rising force in avant-garde jazz" (Jazz Times), Steph Richards is a radical innovator in the avant and experimental scenes and is driven by a curiosity how listeners interact with music and what sensory variables are open to experimentation. A trumpeter, conductor and composer whose skillset "explodes every category" (WBGO), Steph has worked with pioneering artists ranging from Henry Threadgill and Anthony Braxton to David Byrne and Yoko Ono. Her compositions have premiered across the US, Mexico, Canada and Europe on stages as iconic and varied as Carnegie Hall, the Blue-note and Lincoln Center. Her upcoming performance SUPERSENSE includes scratch and sniff scents designed to enhance the music and features star pianist Jason Moran.
Limited tickets, physically distanced