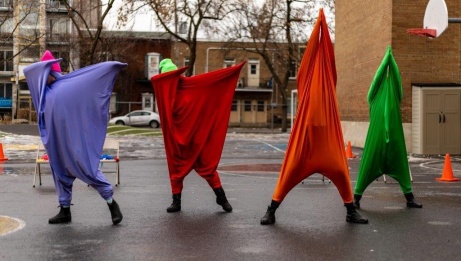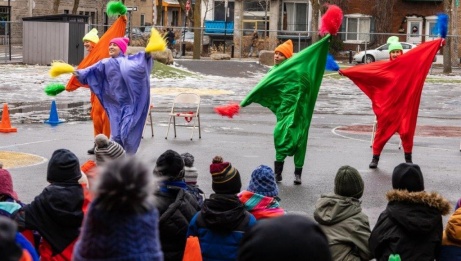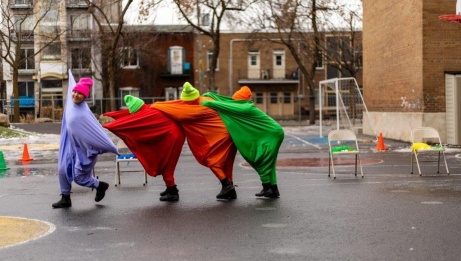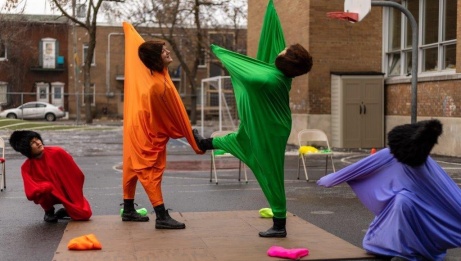 "Wake your eyeballs and shake your body!"
In-person event

Français

Ages 3+

≈ 30 minutes · No intermission
Available in French only.
Due to the rain forecast for Saturday, Kaléidoscope has been rescheduled for Sunday, October 17. The showtimes remain the same.
Secret location revealed: Vanier Museopark
300 des Pères-Blancs Avenue
Vanier, ON K1L 7L5

Reservations are now closed, but there are still a few tickets available at the door! Please come directly to the Vanier Museopark 15 minutes before the performance of your choice to have the chance to take part in Kaléidoscope.
For those based in Gatineau, our show will also take place there in the morning! Visit Kaléidoscope Gatineau for location information!
*****
Invite Grandma and Grandpa! And why not your cousin the artist, and his little sister who doesn't go anywhere without her plush dinosaur? Because, yes, the whole family can safely attend and participate in this lively outdoor dance-theatre performance choreographed by Hélène Langevin!
The company Bouge de là revives a segment from its acclaimed show Through My Eyes in a format specially designed for outdoor performance. Four performers in crazy stretchy costumes invade the space and form a kaleidoscope of colours and movements. Scattered, hatted, clustered together, the joyful quartet explores the geometry of bodies, moving from the "very symmetrical" to hilariously chaotic gestures. After their breathtaking performance, come strut your stuff on the open-air dance floor! Inclusive and festive.
For those based in Gatineau, our show will also take place there in the morning! Select your choice of performance when you register.
Post-show activity
Build your own kaleidoscope!
After each performance, children are invited to a craft activity offered by our friends at the Centre d'exposition l'Imagier and led by the talented Valérie Trudel.
For everyone, ages 5+
Duration: 45 minutes
*In case of rain, the performance will be postponed to the Sunday