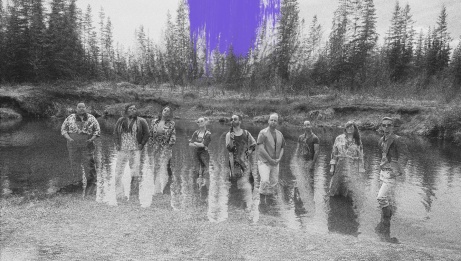 Denise Clarke (OYR) and Haysam Kadri (TSC) co-direct nine beautiful young artists as they perform to an original soundscape composed by Allison Lynch. With costume design by Ralamy Kneeshaw and rehearsal direction by Kunji Ikeda, we watch lovers falling in love, dreamers dreaming and mischief makers making mischief in the light and shadow of the forest and meadow. A whimsical blast of "can't kill the fun " pals getting their summer on and embracing life.
One Yellow Rabbit and The Shakespeare Company respectfully acknowledges the territories in which we gather and create as the ancestral homelands of the people of Treaty 7. We recognize the Blackfoot Confederacy (comprised of the Siksika, Piikani, and the Kainai First Nations), the Tsuut'ina First Nation, and the Stoney Nakoda (including the Chiniki, Bearspaw, and Wesley First Nations), and their ancestors, as the original people of Moh'kins'tsis, the traditional Blackfoot name for what is also known as the City of Calgary. This land is also home to the Métis Nation of Alberta, Region III. We acknowledge all nations and people who call Treaty 7 home.
A Mid-Summer's Daydream
The Shakespeare Company, One Yellow Rabbit and the beautifulyoungartists program
beautifulyoungartists ensemble
Keshia Cheesman
Emma Fleming (Intern Artist)
Matthew Hall
Kunji Ikeda
Vanessa Leticia Jetté
Jennifer LeBlanc
Jason Mancini
Bianca Miranda
Pat Quinn
Jamie Tognazzini*

CREATIVE TEAM
Co-Director and Choreographer: Denise Clarke*
Co-Director: Haysam Kadri*
Sound Designer and Composer: Allison Lynch*
Costume Designer: Ralamy Kneeshaw
Rehearsal Director: Kunji Ikeda
Producer: Ayla Stephen
Assistant Producer: Sadaf Ganji
Stage Manager: Lisa Russell*
Film and Production House: Roadwest Pictures
Film Production Manager: Joel Goundry
Director of Photography: Philip L Harrison
Camera Operator: Jamie Ross
Grip & Swing: Jeff Delaney
Production Assistant: Jacob Henderson
Editor and Colourist: Evan Thies
Site Host: Marilyn Milavsky
*Appears courtesy of Canadian Actors' Equity Association.
Special Thanks: Marilyn Milavsky and Angie Gélinas, Ryan Bartlett, Daniela Heiralovà, Nicole McFarlane, Owen Goundry
--------------------------------------------------------------------------------------------------------------------------------------------------------------------------------------------------
The live performances took place in various regions of the country and respected health and safety guidelines in each location. Following the live performances, the NAC will share videos from each performance on its website and social media channels.