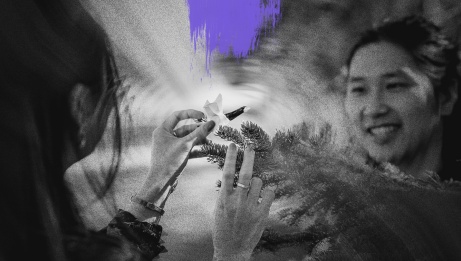 A beautiful moment of joy and release - a bird's first flight - will be recreated through larger-than-life puppetry in a stunning outdoor setting. Created by Two Planks and a Passion Theatre and Theatre du Poulet in collaboration with community members in rural Nova Scotia, this performance, taking place at the Ross Creek Centre for the Arts, represents a community's hope for the future and re-emergence into the realm of collective experience. 
Two Planks and a Passion Theatre would like to acknowledge our gratitude to be in Sipekne'katik, one of the seven regions of Mi'kma'ki, the ancestral and unceded territory of the Mi'kmaq people.
Director / Artistic Director, Two Planks and a Passion Theatre: Ken Schwartz
Producer: Chris O'Neill
Puppet Design and Construction, Theatre du Poulet: Roland Au, Carmen Lee
Technical Support and Construction Consultation: John Thomson
Construction Team: Lyn Estuye, Zeus Optional
Engineering Consultant, Epiphany Engineering: Azra Ross
Puppetry Consultant, Mermaid Theatre of Nova Scotia: Jim Morrow
Puppeteers: Roland Au, Birgit Elssner, Grace Gauthier, Franciska Kouwenhoven, Ken Leslie, Linda Meian, Max Miller, Nathalie Murray, Logan Robins, Malachy Schwartz, Christopher Snook, Molhem Tahina, Jonny Thompson, John Thomson, Gina Thornhill
Community Drum Leader: Sobaz Benjamin
Mi'kmaq Drummers and Singers: Eastern Eagle
Speaker: Trevor Gould
Volunteer Drummers: David Clark, Sara Hartland Rowe, Rebecca Kalpachiev, Zach Kalpachiev, Mélanie LeBlanc, Essance MacKinnon, Robin Munro, Anika Riopel, Jackie Woodworth
Photographers: John Davie and Stoo Metz
Videography: threesixfive
Logistics Volunteer: Tallis Clark
ROSS CREEK STAFF
Executive Director: Chris O'Neill
Director of Development and Admin: Jennifer Manuel
Environmental Programming and Property Management: Jamie MacLean
House Preparateur and Chef: Carol Fellowes
Marketing and Communications: Logan Robins
Information Technology: Nathalie Murray
Visitor Services: Malachy Schwartz
Accounts and Admin Intern: Reagan Scott
Camp Cook: Kayla LeBlanc
Gardeners: Leif Henrichs and Bria Stark
Kitchen and Community Garden: Kelly Butler and Jennifer Walford
Arts Programs and Education: Ian Funke-McKay
Camp Co-Directors: Molly Anderson and Camille Denney-Harris
---------------------------------------------------------------------------------------------------------------------------------------------------------------------------------------------------
The live performances took place in various regions of the country and respected health and safety guidelines in each location. Following the live performances, the NAC will share videos from each performance on its website and social media channels.