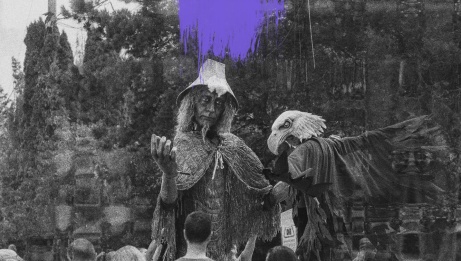 NAC English Theatre Production
Siiye'yu
(friends, relatives)

On a site joining past and the present - sən̓aʔqʷ (settler name: Vanier Park) - Tsatsu Stalqayu (Coastal Wolfpack, a three generation family group) and Mortal Coil Performance continue their 12 year exploration of Coast Salish art and culture. Grand Acts of Great Hope unites Tsatsu Stalqayu's traditional Salish performance with Mortal Coil's European based outdoor site specific theatrical techniques in an event that includes a 12' Salish elder, bears, whales, ladybugs, eagles, and a Thunderbird, among others. Song and dance, prayer and procession illuminate our grand act of building bridges towards each other while honouring the creatures on the lands we all share.
Tsatsu Stalqayu welcomes you to our Coast Salish territories of the xʷməθkʷəy̓əm (Musqueam), Sḵwx̱wú7mesh (Squamish), and səl̓ilwətaɁɬ / sel̓íl̓witulh (Tsleil-Waututh).
Mortal Coil is proud to work with Tsatsu Stalqayu on their Coast Salish territories of the xʷməθkʷəy̓əm (Musqueam), Sḵwx̱wú7mesh (Squamish), and səl̓ilwətaɁɬ / sel̓íl̓witulh (Tsleil-Waututh.
A Grand Act set on sənaʔqʷ (Vanier Park)
Co-created by Tsatsu Stalqayu (Coastal Wolfpack) and Mortal Coil Performance
Directors and Creators: Alec Dan, Peter Hall, Iona Paul
Puppet and Production Element Designers: Barbara Clayden, Peter Hall, Elia Kirby, Iona Paul, Joseph Paul, Frank Rader
Songs: Benjamin Paul
except Paddle to Battle by Kevin Seward and Musqueam Paddle Song (traditional)
TSATSU STALQAYU
The Parents: Iona Paul, Alec Dan, Joseph Paul, Amanda Kenoras-Paul, Shadae Johnson, Anastasia Paul, Kevin Seward, Boedaya Paul, Leonard Sylvester, Benjamin Paul, Madii Good
The Children: Katisha Paul, Demetrius Paul, Perseis Paul, Mackenzie Paul, Alec Sylvester, Ayanla Johnson, Arthur Seward, Khe'Sul Seward, Mikyla Rose Johnson, Shalaya Paul, Zainah Good, Rayfield Seward, Eleanor Sylvester, Nakoah Good, Cepheus Paul
All Regalia created, made and owned by Tsatsu Stalqayu.
Performers and Puppeteers: Melissa Aston, Kate Bateman, Denise Galay, Dan Joeck, Talon Paul, Jim Preston, Sarah Redmond, Amira Routledge, Sean Sonier, Lenard Stanga, Tamara Unroe, Tsatsu Stalqayu
Production Manager: David (DK) Kerr
Site Managers: Ingrid Turk, Jingo Lewis
Assistant Site Managers: Naiya Sanchez Antonio, Sekahnee Baker
Performer Coordinator: Sharon Bayly
Administrative Assistants: Anastasia Paul, Katisha Paul
Front of House: Petrice Brett, Vanessa Violini
Assistant Front of House: Emma Levebvre, Manuel Strain
FILM CREW
Director: Lois Anderson
Director of Photography: Cuyler Frink
Editor: Candelario Andrade
Camera: Candelario Andrade, Michaela Crook
Sound: Josh Thompson
Consultant: Gregory Coyes
MORTAL COIL PERFORMANCE
Artistic Director: Peter Hall
General Manager: Marietta Kozak
Catering: Bigheart Bannock
Thanks and Acknowledgements: Great Northern Way Scene Shop, Vancouver Board of Parks and Recreation, Indigenous Digital Film Program, Capilano University, Doreen Manuel, Erinne Drake
Funders: Canada Council for the Arts, British Columbia Arts Council, Province of British Columbia, City of Vancouver Cultural Services, First Peoples' Cultural Council Arts Program
----------------------------------------------------------------------------------------------------------------------------------------------------------------------------------------------------
The live performances took place in various regions of the country and respected health and safety guidelines in each location. Following the live performances, the NAC will share videos from each performance on its website and social media channels.