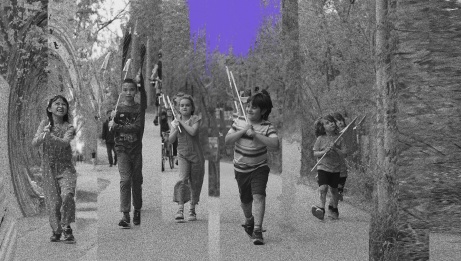 After another long school year, Wishes in the Wind is a soulful parade that captures the struggles and resilience of children. As they criss cross each other along a path carrying rocks emblazoned with words of worry and flags decorated with declarations of hope, this Grand Act gives us a glimpse into the hearts of young people while offering them a cathartic opportunity to connect, to express themselves, and to run free as we continue to navigate through this challenging moment together.
Theatre Direct and FIXT POINT Arts and Media are located on the traditional territories of the Mississaugas of the Credit, the Anishnabeg, the Chippewa, the Haudenosaunee and the Wendat peoples; now home to many diverse First Nations, Inuit, and Métis peoples. We gratefully acknowledge the original caretakers of this land and all of the recorded and unrecorded struggles and hopes of the many generations of children that have lived here in this place we call home.

Theatre Direct with FIXT POINT Arts and Media
Conceived by: Lisa Marie DiLiberto
Co-directed by: Lisa Marie DiLiberto and Sehar Bhojani
Film Producer and Director: Charles Ketchabaw
Event Producer: Madeleine Brown
Assistant Director: Khadijah Roberts-Abdullah 
Designer: Shira Leuchter
Choreography Consultant: Susie Burpee
Associate Directors: Djennie Laguerre, Madeleine Brown, Pragna Desai and Treasa Levasseur
Facilitation Design: Lisa Marie DiLiberto with Pragna Desai & Treasa Levasseur
Workshop Facilitators: Djennie Laguerre, Khadijah Roberts-Abdullah, Lisa Marie DiLiberto, Madeleine Brown, Pragna Desai, Susie Burpee and Treasa Levasseur
Assistant to the Directors: Zevon Albert Ketchabaw
Assistant to the Designer: Calla Hanratty
Child Consultants: Ambroise Vargoz, Carmel Ketchabaw, Izzy Carson and Sam Carson
Participants: Aaliyah Beckles, Adaham Beckles, Alexandre Gallant, Ambroise Vargoz, Anisah Diaby Laguerre, Anjali Ruffolo, Anna Gallant, Annaliese Harmelink, Aria Glemaud, Arthur Showman, Arya Lalani, Ashton Campbell, Avery Campbell, Bena Glemaud, Brinly Yong, Calla Hanratty, Carmel Ketchabaw, Charley Farnsworth-Hauserman, Daria De Angelis, Duncan Sibley, Edward Harmelink, Emile Grimes, Emma Sibey, Esmé Dilworth, Esmé Wiseman, Esperanza Wolfe, Ewan Stedwill, Frida Kalina Ruxton Chatterton, Gabrielle Prince, Hugo Stewart, Huxley Pérez-Ostroff, Ida Bobbie, Izzy Carson, Jack Penner, Jahshaya Frank, Jannah Hassan, Kai Lalani, Liam Esguerra, Lucie Besson Balducci, Lulu McGrinder, Malaika Wolfe, Max Pijuan-Nomura, Mia McGrinder, Morgan Verreydt, Naomi Tamašauskas, Noah Glemaud, Nora Jansen, Olive Schwartz, Rooksby Stewart, Rosy Grimes, Saajan, Sam Carson, Selma Verreydt, Sevan Brodey, Simon Showman, Soma Srivastava Liu, Theodore Baker, Violet Archer, Violette Campbell, Willa Calnan, Zara Graeme, Zevon Albert Ketchabaw, Zephyr Yong
FILM CREW
Producer and Director: Charles Ketchabaw
Director of Photography: Kevin C. Wong
Camera Operators: Bran Chang, Kalinga Deshapriya, Patrick Zhou and Will Innes
Sound Recordists: Adam White, Ian Theriault and Nathan Street
Audio Post-production: Adam White and Charles Ketchabaw
Picture Editor: Will Innes
Colourist: Ryan Ruskay
Event Photographer: Sam Polzin
Event Crew: Ally Jazmine, Anisah Diaby Laguerre, Hanie Lagunas, Hilary Wirachowsky, Jennah Foster-Catlack, Kayleigh Poelman, Keira Marie Forde, Lily Sutherland, Mandy Roveda, Mezmin Bhojani, Muna Youssouf, Sophie Dow and Tom Carson
Event Program Design: Desakii Graphics (Akilah Abdullah)
Original Music Composed by: Brian Kobakawaya and Treasa Levasseur
Musicians: Brian Kobayakawa, David Gavan Baxter and Treasa Levasseur
Produced and Engineered by: Brian Kobayakawa
SPECIAL THANKS
George Chuvalo Neighbourhood Centre
Gaspar Café
The Office of Ana Bailão, Deputy Mayor, Chair, Planning and Housing Committee, Councillor, Ward 9 - Davenport
Canada Council for the Arts
Ontario Arts Council
Toronto Arts Council
------------------------------------------------------------------------------------------------------------------------------------------------------------------------------------------------
The live performances took place in various regions of the country and respected health and safety guidelines in each location. Following the live performances, the NAC will share videos from each performance on its website and social media channels.