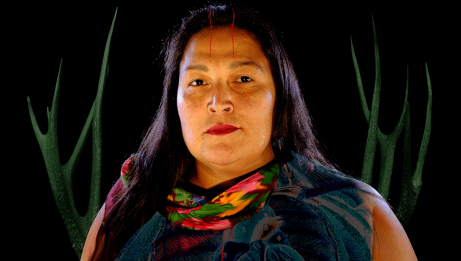 Indigenous arts
Theatre
Drama
"Deer Woman is a work of immense power." Timeout
Video on-demand

English

≈ 80 minutes · No intermission
Mature themes
Graphic violence
Sexual violence
"My name is Lila and I am a proud Blackfoot woman. What I am doing is illegal."
So begins Deer Woman, a solo-warrior-woman story of righteous vengeance created by ARTICLE 11.
Lila, one missing girl's big sister, refuses to stand idly by. She's ex-army and the daughter of a hunter who taught her all he knew. When circumstances converge, Lila finds the perfect opportunity to avenge her baby sister's murder while exercising the skills taught by the Canadian government.
Deer Woman contains extreme, graphic, historical and contemporary violence, disturbing content and descriptions of sexual violence. Restricted to ages 16+.
This online, broadcast performance will be available to watch here on the NAC website as of Sunday, February 14, 2021 at 10:00am EST, until on Sunday February 21, 2021 at 11:59pm EST.
If you find yourself in need of emotional support, a list of mental health resources and helplines is available here on our website.