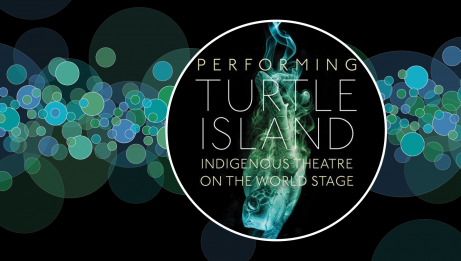 Facebook Live event

English
In partnership with the Ottawa Public Library, Our Stories: Indigenous Book Club runs from January - June 2021, with monthly books including poetry, fiction, memoirs and plays. At the end of each month, join us for an online conversation with each book's author on Facebook live.
Our February book is Performing Turtle Island: Indigenous Theatre on the World Stage by Jesse Rae Archibald-Barber (editor), Kathleen Irwin (editor) and Moira J. Day (editor). On February 24 at 7pm EST, join us for this live, online discussion with editor and writer Jesse Rae Archibald-Barber (Metis, Cree, Scottish, and German) in conversation with playwright, director and dramaturg Yvette Nolan (Algonquin) to discuss the book.
This livestream video will stay online to watch on NAC Indigenous Theatre's Facebook page for 1 year after it has taken place.
We'll be sharing reflection questions in our book club Facebook event throughout February. Feel free to engage and share your thoughts about the book throughout the month!
Click here to borrow the book from the Ottawa Public Library.
This book is intended for adult readers.
--
February's Book - Performing Turtle Island: Indigenous Theatre on the World Stage by Jesse Rae Archibald-Barber (Editor), Kathleen Irwin (Editor), Moira J. Day (Editor)
About the book
Following the Final Report on Truth and Reconciliation, Performing Turtle Island investigates theatre as a tool for community engagement, education, and resistance.
Understanding Indigenous cultures as critical sources of knowledge and meaning, each essay addresses issues that remind us that the way to reconciliation between Canadians and Indigenous peoples is neither straightforward nor easily achieved. Comprised of multidisciplinary and diverse perspectives, Performing Turtle Island considers performance as both a means to self-empowerment and self-determination, and a way of placing Indigenous performance in dialogue with other nations, both on the lands of Turtle Island and on the world stage.
About the editors
Jesse Rae Archibald-Barber is from oskana kâ-asastêki and is an associate professor of Indigenous literatures at First Nations University of Canada in Regina. He is the editor of kisiskâciwan: Indigenous Voices from Where the River Flows Swiftly and the writer and producer of the Making Treaty 4 performance project.
Kathleen Irwin is Associate Dean of Graduate Studies and Research in the Faculty of Media, Art, and Performance at the University of Regina.
Moira J. Day is a professor of drama at the University of Saskatchewan, where she also serves as an adjunct member of Women's and Gender Studies, and the Classical, Medieval and Renaissance Studies Unit. She lives in Edmonton.