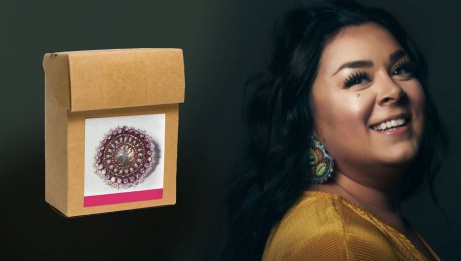 Indigenous arts
Workshops
Visual Arts
Fashion
Come join Stephanie Peltier of Deliaestelle Designs for this beaded earring workshop!
You will receive a kit that has everything to make a pair of beautiful beaded earrings, with a surprise bead colour inside! Included are instructions, beads, gems, threads, stud backings and much more! The workshop will be split between two 1.5-hour sessions via zoom where you will bead along with Stephanie to make your earrings from start to finish and have the ability to share your progress and ask questions.
Suitable for beginner beaders and experienced beaders alike, ages 16 and up. Workshop will be delivered in English but questions are welcome in French.
Materials required:
- Pen
- Scissors
All other materials will be provided.
About the instructor:
Stephanie Peltier is a Francophone First Nations (Ojibway/Odawa/Potawatomi) Artist from Wikwemikong. Stephanie has created beadwork since 2014 and her jewelry has been worn by several well-known individuals across the world and has facilitated workshops with the help of her unique Beginner Beading Kit.
A note from the artist:
I believe my passion comes from my "late" grandmother (Delia) who is known for quilting and making beautiful pieces out of sweet grass. Delia was a sewing goddess followed by my other grandmother (Estelle) who's owned a seamstress shop for over 40 years. I believe I have received a beautiful gift from both. I have been a vendor at various craft shows and I enjoy the reactions of the community when seeing my beadwork. It's an opportunity for them to feel and see the detail of each piece.