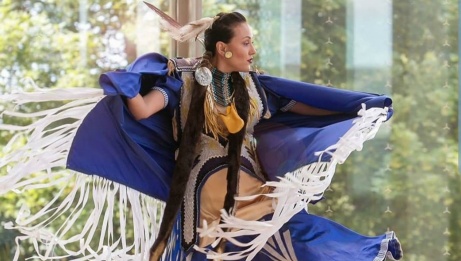 Join us Thursday at 12:00 pm EDT for this week's Powwow Workout, led by Josée Bourgeois! An Algonquin First Nations multi-disciplinary artist, Josée has collaborated with artists like DJ Shub, DJ Classic Roots, and DJ Rise Ashen. She also danced in the National Arts Centre's Wild West Show - Gabriel Dumont Story, and performed in the opening act for the Backstreet Boys at Ottawa's Bluesfest 2019.
Josée is committed to continuing trailblazing and reclaiming space as an Algonquin Artist all over Turtle Island and across the world.
This Powwow Workout​ event will be available to watch on Indigenous Theatre's Facebook page. The video will be available for only 24 hours.
Indigenous Theatre's vision for connecting with our audience includes creating space for Indigenous arts and bringing a range of rich perspectives to our audience. By inviting the dancers whose work inspires us to lead us in a dance exercise, we extend our family and provide a shared experience and connection.
Indigenous Theatre commits to opening the doors of the NAC to all with free Indigenous programming. Powwow Workout honours the power of dance and invites the community to be in their bodies as part of the holistic care of body, mind, heart, and spirit.