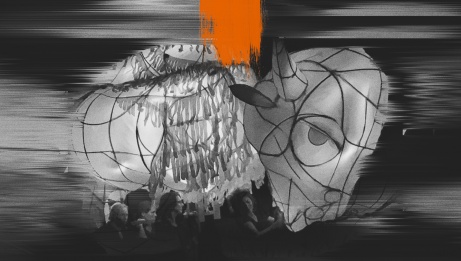 Iniskim is an immersive, puppet-lantern, performance experience that lives upon the land in the area of Treaty 7, near to where the Blackfoot peoples call Mohkinstsis – which is now known also as Calgary, AB. The performance celebrates the reintegration of Bison into the natural ecosystem of Banff National Park, our country's premiere National Park. It shares the inspiration of Canadian artists – both first nations and non-first nations people – together with local communities within the vicinity, embracing people of all ages, to remind us of what it means to be alive and in concert with one of the greatest gifts that we have – our robust and healthy natural world.
Produced by the Canadian Academy of Mask and Puppetry with additional assistance by Bison Belong, Parks Canada, Old Trout Puppet Workshop, Contemporary Calgary, Leighton Art Centre and the Banff Centre for Arts and Creativity.
Exact time and location of this event to be confirmed. Please check here for updates.
Please note performance time is indicated in Eastern Daylight Time (EDT). Please adjust for your local time zone.
---
As the performing arts sector continues to face unprecedented challenges due to the COVID-19 pandemic, the National Arts Centre has responded with Grand Acts of Theatre, an initiative to bring Canadian artists and audiences together. Eleven of Canada's most innovative theatre companies have been engaged to create and perform large-scale, new works in response to these times, which will be performed outdoors in front of live audiences in various Canadian locations, filmed, and later shared online.
This event will be photographed and recorded, with excerpts being presented online at a later date, so we are advising all attendees that by attending the event, individuals are deemed to consent to the recording of their image and use of their image in connection with recordings and photographs of the event, which may be published. All video recordings and images of the event captured by the organizers shall be the sole property of organizers and all rights of personality, publicity, privacy, or other rights of participants in recordings or photographs shall be deemed to have been waived.