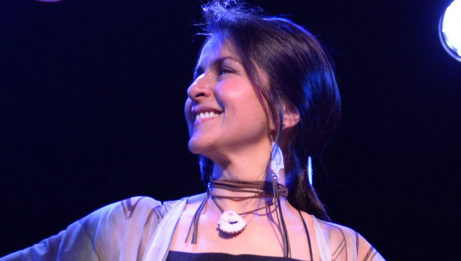 Ottawa-based Colombian artist Claudia Salguero returns to the National Arts Centre to present her show 10 YEARS.
10 YEARS celebrates Claudia's tenth-year anniversary at the National Art Centre through a musical journey to the remote corners and eras of the Americas through romantic and vibrant upbeat rhythms in jazz and world instrumentation. The lyrics, renowned by its rich mix of poetic content tell a story that Claudia explains for each song, making this musical journey inspiring.
Join Claudia, her band and her invited artists for an intimate evening of Latin Jazz and folk from Argentina, Colombia, Chile, Peru, Cuba, Mexico, Venezuela and Spain as well as English pop classics.
A portion of the proceeds from this presentation will be donated to "Casa Taller Las Moyas" in Colombia that support the development of children and youth through a space for social reconstruction.
Band:
• Piano: Sylvio Modolo (Brazil)
• Guitar: Izzy Martinez (Mexico)
• Bass: Daniel Chavolla (Mexico)
• Drums and Percussion: Alvaro de Minaya (Chile)
• Percussion: JL Vasquez (Chile)
• Sax/Flute: Jasmin Lalande (Canada)
• Winds/Strings: Luis Abanto (Peru)
Guest artists:
• Colombian Tiple: Adrian Manrique (Colombia)