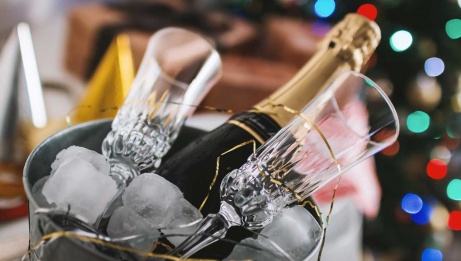 Special Events
Culinary events
Holidays
You're invited to New Year's Eve at the NAC!
Savour a delectable four course meal including party favours, a sparkling toast at midnight and swing into the New Year as a DJ plays great music from the Big Band era to today!
$129.00 per person*
* (plus taxes & gratuities). Tickets available until December 27th, 2019.
Doors - 6:30
Dinner - 7:30
Dance - 9:00
Menu (PDF)
Seating Chart (PDF)
Details
Parking
There is parking available in the garage beneath the NAC. Details and a map of our parking facilities.
Dress Code
While guests are usually well dressed for this event, there is no strict dress code per se. Both long and short dresses have been worn in the past, as well as attire ranging from business casual to suits and black tie. (Much like you might find at a wedding).
Food Restrictions
Food restrictions due to special dietary needs will be accommodated by the Chef. Typically, any allergens will be excluded or replaced in dishes, unless a complete alternative is needed.
Please indicate any food restrictions, as well as the guest it applies to, on your form or over the phone when you call to reserve your seats.
Reserving a table for a group
You can reserve for a group and have the option of paying for the entirety of the group or requesting that they call in to pay for their own tickets. (Please provide their contact information when paying for your tickets).
If you'd like to reserve an entire table for your group exclusively, the minimum is 10 guests, but we can accommodate up to 12 at one table. (Please indicate this request on your form).
Your table will be held for 1 week, after which any seats that have not been paid for will be released for sale.
Reserving for only one or two people
If you're coming by yourself, or as a couple, we will endeavor to seat you at a table with other couples and small groups. (Our tables typically hold 8 to 10 people, and can accommodate up to 12).
Served at the bar
A variety of wine, champagne, beer, spirits, colas and water.
Pre-ordering wine
Pre-ordering wine is a great way to avoid the line-up at the bars at the beginning of the event, as well as save money on the purchase of wine. Simply indicate on your form the wine you'd like to pre-order and pay for it at the same time as you pay for your tickets, (or call it in later, if need be).
You'll receive vouchers for your wine with your tickets, which we ask that you bring to the event and present to your server upon arrival.
Cancellations
We have a no cancellation policy.
That being said, if special circumstances (not including weather) necessitate your absence at the event, and we have someone else who would like the tickets, a cancellation may be possible.
Please call Julie at 613-947-7000 ext. 663 for more information.
Wait list
We will have a wait list. If you see that the event is full and you'd like to be added to a wait list, please fill in the form and send it to us and we'll be happy to add you to it.
Children
While there is no policy restricting children from the event, guests should be aware that the event is meant for adults. Children and youths under 18 years of age aren't typically in attendance.
If children will be in attendance, the cost for their ticket is the same as for an adult.