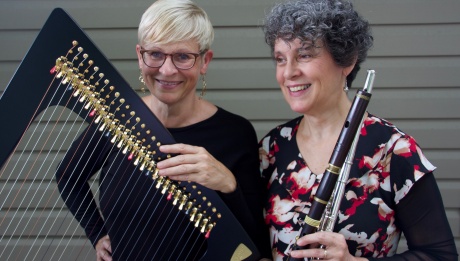 Music
Classical music
Chamber music
Folk
Country
Holidays
Come in from the Cold
Flute and harp duo, Sheila White & Lucile Brais Hildesheim
Ottawa's well known flute and harp duo bring their annual winter show back to the Fourth Stage.
The ensemble's signature blend of traditional tunes, original music and light jazz is enriched by the warm, lush voice of the wooden flute, the brilliance of the silver flute and concert harp, and the dynamic sounds of the electric harp. Their music is influenced by the duo's background in celtic, classical and contemporary music, and creates a simmering atmosphere of both energy and calm making for an unforgettable and moving experience.
The evening will include selections from their album, When Winter Comes, in addition to new original arrangements and a premiere written for the duo.
Come in from the cold and give your holiday season a brilliant start with an intimate evening of unusual and inspiring soundscapes.