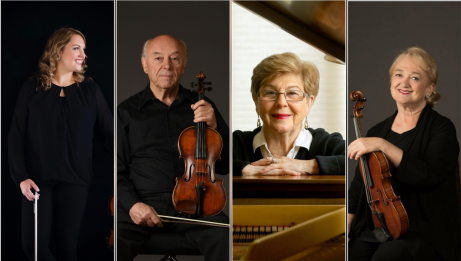 Music
Classical music
Talks
Post-concert Talk
English

≈ 45 minutes · No intermission
Their stories are as varied and exciting as the Orchestra's 50-year playlist in this walk down memory lane with some of our longest-serving and most venerated players. NAC Orchestra violinist Carissa Klopoushak hosts violinists Elaine Klimasko and Karoly Sziladi, who reminisce about their early years on the road and off and their favourite memories from the NAC stage. Evelyn Greenberg, founding chair of the Friends of the National Arts Centre Orchestra (FNACO) – and the pianist who accompanied Elaine and Karoly at their NACO auditions in 1969! – will also share her stories from 50 years in the audience and behind the scenes.
Join us for this final in a series of three lively conversations exploring the National Arts Centre Orchestra's illustrious 50-year history. This series of discussions will feature memories and highlights from some of its longest-serving players, its dedicated and talented educators, and the extraordinary young artists the Orchestra has mentored and inspired over the years.
The NAC's 50th anniversary events and programs are made possible with support from Gail Asper, O.C., O.M., LL.D. and Michael Paterson, Bonnie and John Buhler, Alice and Grant Burton, Margaret Fountain, C.M., DFA (h) and David Fountain, C.M., Elinor Gill Ratcliffe, C.M., O.N.L., LL.D. (hc). Janice and Earle O'Born, Gail O'Brien, LL.D. and David O'Brien, O.C., and Dasha Shenkman, OBE, Hon RCM.
This talk pairs with the following event: