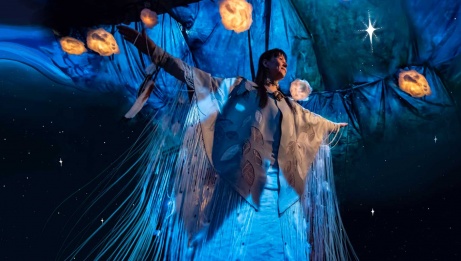 Family programming
Indigenous arts
Music
Theatre
Children
Storytelling
Festival events
Remembering his mother each night before he sleeps, young Mokatek recounts his day to the brightest star in the sky, the North Star. But one night, under the full moon of the summer solstice, Mokatek realizes that the star has disappeared.
So begins a journey that will test his courage and strength with every step. Along the way, Mokatek is guided by the spirits of sounds and animals that move him ever closer to his own origins and the land.
Combining puppetry, songs and dance, Mokatek et l'étoile disparue will awaken you to the beauty and wealth of Indigenous languages.
Recommended for children ages 2-6 and their families.