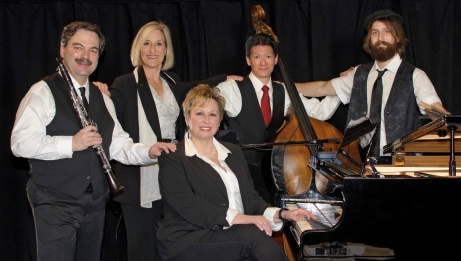 Music
Jazz
World music
Folk
Ottawa Klezmer Band: World Music of Life and Celebration
Continuing its 2019-20 season run, the celebrated Ottawa Klezmer Band returns to the NAC Fourth Stage, for a hand-clapping, sing-along, joy-filled concert of world melodies
Klezmer music originated in the 'shtetls' (villages) and ghettos of Eastern Europe, in the middle ages, where itinerant Jewish troubadours, known as 'klezmorim', performed at weddings and other celebratory events.
In contact with cantorial, Slavonic, Greek, Ottoman, Rom (Gypsy) and - later - American jazz musicians, using typical and modulated scales, tempo and rhythm changes, syncopation, and improvisation, 'klezmorim' snagged and grabbed melodies wherever they travelled, incorporating them into an oral tradition that grew in range and style over generations - evoking ranges of emotions through diversified music that "resonates for everyone".
Post-Holocaust, Klezmer bands have now emerged in every corner of the world. With its artistic breadth and distinctive scales and sounds, Klezmer music is easily recognized and widely appreciated both by 'ethnic insiders' and by larger audiences, from festivals to concert halls and events stages.
Klezmer music and Yiddish songs today include vast repertoires reflecting the breadth of human experiences - from joy to despair; from work to family time, from reflection to elation, from pathos to love.
The virtuoso musicians of the Ottawa Klezmer Band include David Renaud, performing on all clarinets, saxophones, and flutes; outstanding piano tuner, jazz pianist, Artistic Director of the Dr. Jazz Band; Natasha Guiller who easily transitions from teacher, to pianist, to accordionist; Adrian Cho, (pianist, trumpetist, flamenco guitarist), best known as a bassist and Artistic Director of the celebrated Ottawa Jazz Orchestra; Zac Pulac, prolific freelance soloist, and orchestral percussionist, performing with numerous national ensembles, including the National Arts Centre Orchestra and Thirteen Strings Chamber Ensemble; and Floralove Katz, dynamic Band Leader, Artistic Director, Soprano (soloist; Lay Cantor; Ottawa Choral Society), cellist. Special guests artists - young emerging talent - will also be featured with the Band.