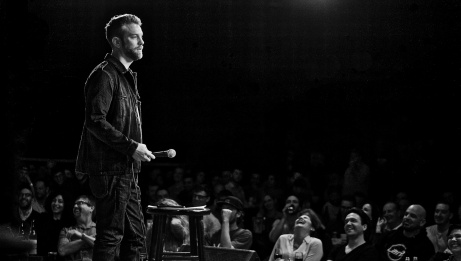 "Jeselnik... has rapidly emerged as the satanic prince of stand-up, a black-hearted joke-slinger with a ferocious and unstoppable will to power." Nathan Rabin, Head Writer, A.V. Club
Anthony is a comedy industry veteran who has been wowing audiences for over 15 years. 2017 was a banner year for Anthony as he toured with Chris Rock's Total Blackout tour and perfected his new hour, workshopping in clubs across North America.

In 2008 Anthony was named as one of Variety's 10 Comics to Watch, and in 2009 was named to Comedy Central's Hot List. In 2010, Anthony released his debut comedy album Shakespeare through Comedy Central Records. In 2013, he released Caligula, his first hour long special, to critical acclaim. Anthony hosted season nine of NBC's Last Comic Standing alongside judges Norm Macdonald and Keenan Ivory Wayans. His last official tour was in 2014 and ended in early 2015 when he shot his critically acclaimed Netflix special Thoughts and Prayers.