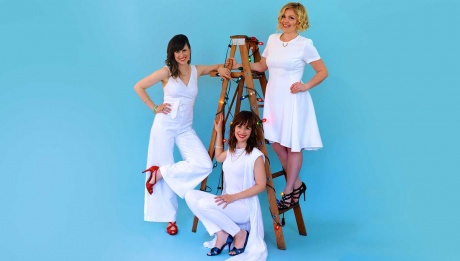 The Good Lovelies return with their immensely popular Christmas show again this year to bring joy and good cheer into your holiday season. Sure to be a sell-out!
Audiences have been falling in love with the Good Lovelies for the past ten years. Winners of the 2010 JUNO Award for Roots Album of the Year, and nominees for the same award in 2012 as well as four-time winners at the Canadian Folk Music Awards, the Good Lovelies have been making waves across Canada. Touring life also takes these women across the United States, the UK, Europe and Australia.
The aptly named Good Lovelies are Caroline Brooks, Kerri Ough, and Sue Passmore. All of them best friends, the Ontario-based trio relies on impeccable vocals, winsome song writing, and on-stage banter drawn from a seemingly endless succession of comedic adventures on the road and at home.