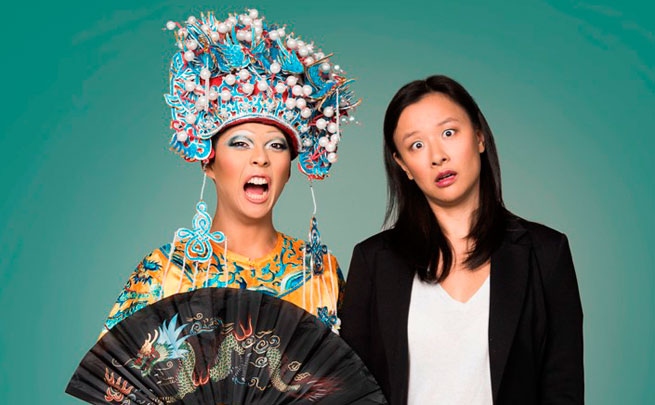 Milton Lim, Andrea Yu.
Emily Cooper
By

Lauren Yee

Directed by

Sherry J. Yoon
A Gateway Theatre (Richmond, BC) production
It's mid-rehearsal, and two actors playing Lauren and Larry deliver their lines. All is well until the real Larry wanders onstage. When the real Lauren – who, it seems, is also the playwright – leaps up from the audience, chaos ensues. Throw in some rogue spectators, a corrupt senator, lion dancers, ghostly ancestors, and a few firecrackers, and you have King of the Yees, an unapologetic and hilarious take on Chinese culture and tradition in North America. From stage to backstage to audience and back on stage again, this play within a play bulldozes the fourth wall in an epic joyride through Chinatown.
"Jaw-droppingly funny... satirizing western stereotypes of Chinese culture while lovingly sending up some actual, traditional Chinese customs."

Georgia Straight
JILLIAN'S NOTES:
This show is a riot. I won't ruin the surprise for you, but I will tell you that it did surprise me and it never let up, not once. It's simply a delight, and I'm thrilled to welcome Gateway Theatre's fantastic production from Richmond, BC to the national stage.

Jillian Keiley, Artistic director, NAC English Theatre
| Mon | Tue | Wed | Thu | Fri | Sat | Sun |
| --- | --- | --- | --- | --- | --- | --- |
| | | | | | | |
| | | | | | | |
| | | | | | | |