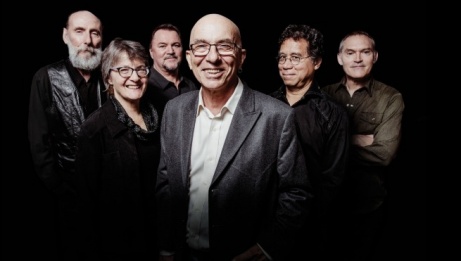 Legendary Ottawa-based folksinger Sneezy Waters grew up in a musical family – his mother, Helen, played piano and sang, and his father, John, had sung in the Hart House Glee Club. Along with a brother John and sister Julie, weekend evenings were spent singing many styles of folk songs together.
As a child, Sneezy sang in St. Luke's Church Choir with choirmaster Leonard Foss.
Later in his teens, Sneezy started performing folk music in coffee houses, primarily Cafe Le Hibou (Ottawa). While he performed solo, he also performed in various groups including "Nev and Pete" (with Nevile Wells), and "The Children" (with Chris Anderson, Sandy Crawley, Bruce Cockburn and Neville Wells).
Sneezy, along with Susan Jains, first played the NAC Terrace in June 1969 as "A Rosewood Daydream"; they later played at Expo 70 in Osaka, and spent another year playing residencies in Hong Kong, Bangkok, Vientiane, All India Radio and Copenhagen.
Upon his return to Canada in 1971, he became Ottawa's very first busker, after which he formed "The Great Sneezy Waters and His Excellent Band", which toured for many years across Canada, in all Provinces and Territories, and were featured on many network and radio T.V. shows.
From 1977 until 1992, under direction of Peter Froelich, Sneezy starred in the title role in "Hank Williams – the Show He Never Gave" in over 800 performances from Canada, to the United States and Europe.
In a subsequent film version of the play, Sneezy won the Best Actor Award in the 3e Festival du Film Musical in Grenoble, France. The film was nominated for Best Country Motion Picture in the 19th Annual Academy of Country Music Awards in Los Angeles, losing out only to "Tender Mercies".
Sneezy has been playing over the last several years at the NAC's Fourth Stage to sold out shows featuring "The Very Fine Band" consisting of Dave Bignell and Vince Halfhide – guitars; Ed Bimm – keyboards; Ann Downey – upright bass; and Peter Beaudoin – drums. They play a very wide range of Passionate Music from many genres and eras. It's not a show to be missed.
Sneezy's latest CD entitled "SNEEZY WATERS" is now available online and at Compact Music.
Photo by: Petr Maur