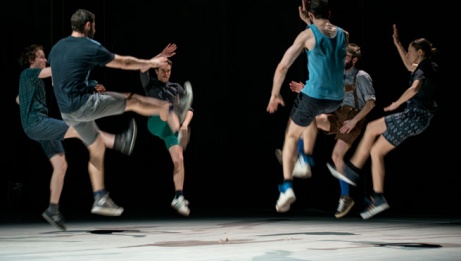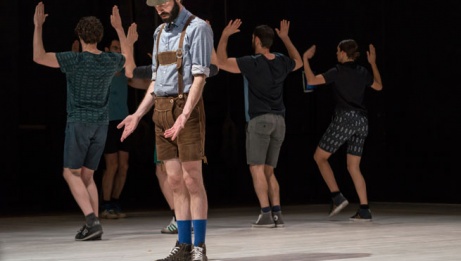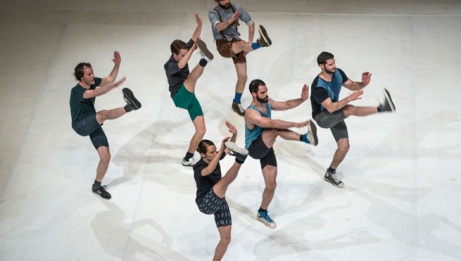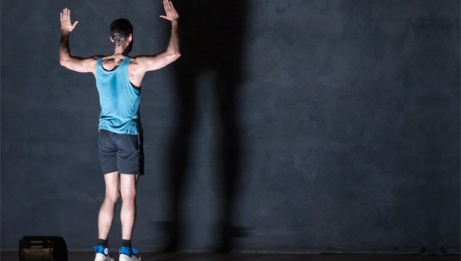 "Working between dance, performance art, and anthropological ritual, Sciarroni deploys the body—in all its sweaty physicality—to push the limits of human potential in this visceral, mesmerizing piece." French Institute Alliance Française
The Schuhplattler (shoe beater) is a typical Bavarian/Tyrolean folk dance that has survived intact through generations. Italian choreographer and rising star Alessandro Sciarroni uses this ancient form as a departure point for a choreographic practice studying time. Out of context and repeated almost mechanically, the dance becomes hypnotic. We cling to the predictable, recurring rhythm, connected more through sound than through vision. We find ourselves rooted firmly in the present, mesmerized participants in a percussive tide. A practice rather than a fixed work, this magnetic piece creates a space for both contemplation and empathy.
NOTE: Strobe Lights
_______________
Co-producers: Marche Teatro | Teatro di Rilevante interesse Culturale – Projet Archeo.S. Project (System of Archeological Sites of the Adriatic Seas), co-funded by l'IPA Adriatic Cross-Border Cooperation Program.
And for your lovey-dovey pleasure, there will be roses as far as the eye can see, pianist Steve Boudreau will get you relaxed with his smooth jazz from 7 – 8 p.m. and for just $12 all in you can enjoy a glass of La Delizia Prosecco or Poema Cava Brut at the NAC bars. Enjoy the holiday of love!