Dorrance Dance
ETM: Double Down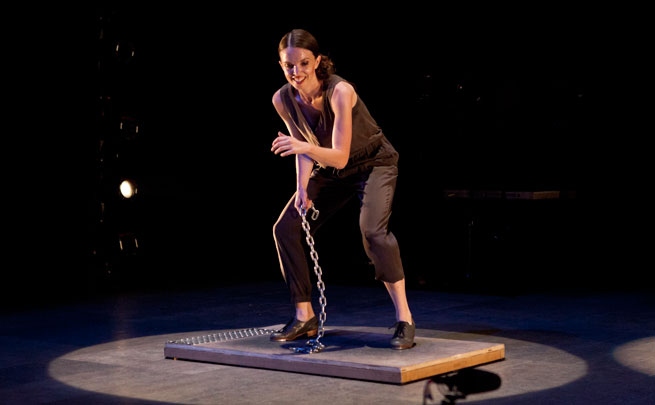 Dorrance Dance
Jamie Kraus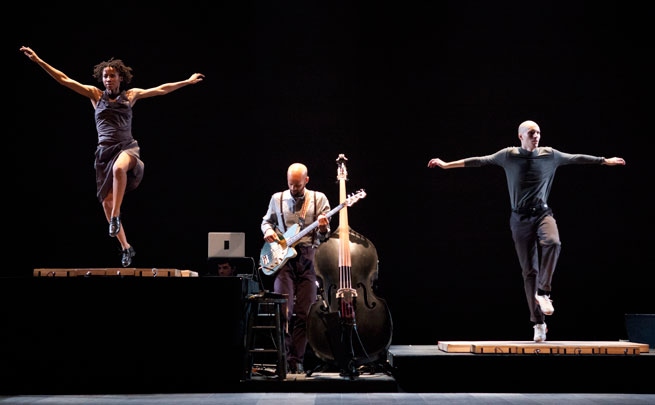 Dorrance Dance
Jamie Kraus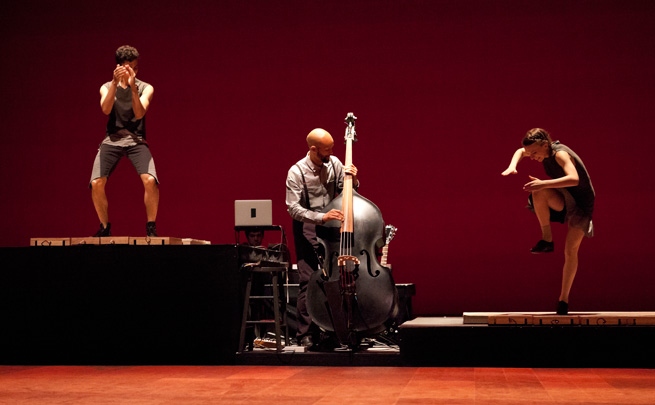 Dorrance Dance
Jamie Kraus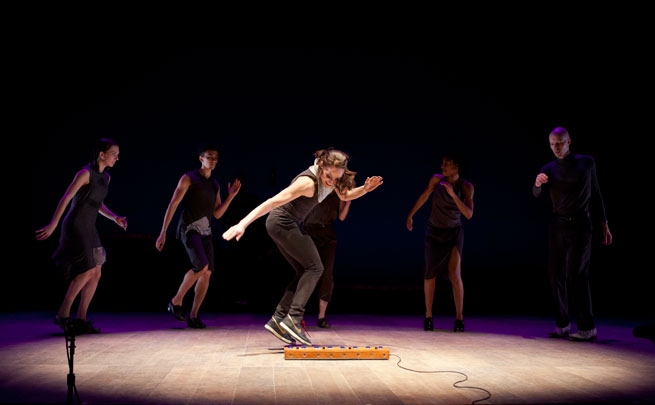 Dorrance Dance
Jamie Kraus
Approximately 1 hour and 40 minutes including intermission.
MacArthur Fellow and visionary tap dancer/choreographer Michelle Dorrance has taken the contemporary dance world by storm, tapping spectacularly onto the scene and breathing dramatic new life into the traditional American dance form. With an unstoppable creative energy, the new superstar uses her deep understanding of tap to reimagine its boundless artistic possibilities.
ETM: Double Down, a collaboration with Bessie Award winner Nicholas Van Young, is a fusion of acoustic and electronic sound – the high octane performers dancing across platforms and boards, tapping out elaborately choreographed phrases while simultaneously playing a musical composition. This is effervescent, electrifying tap for the 21st Century.
Media Coverage
Review: Dorrance Dance, Where Tap and Computers Intersect, The New York Times, Brian Seibert
___________
NOTE: smoke machine
"One of the most imaginative tap choreographers working today."

Brian Seibert, The New Yorker
Michelle Dorrance
Nicholas Van Young Choreography
Learn More:
Message from Cathy
From the first time I saw Michelle Dorrance perform, I knew I wanted to introduce her to our NAC audiences. Her fresh, energetic and delightful approach to contemporary tap dance is so intriguing, and her collaborations with new music technology continue to push and explore. Tap is inherently a musical dance form, and together with composer Nicholas Van Young, her collaborator for ETM: Double Down, and her ensemble of magnificently talented musicians and dancers (including one b-girl!), Dorrance expands the boundaries of tap technique, brilliantly linking tradition with innovation. As the performers trigger sounds and samples with voice and live playing, emotional and physical responses are inevitable — and often surprising. As much a concert as a dance show, Dorrance Dance will flood your senses with its incomparable exuberance. Enjoy!
Cathy Levy Executive Producer, Dance
ETM: Double Down - Created by Michelle Dorrance & Nicholas Van Young
Choreography
Michelle Dorrance and Nicholas Van Young with Ephrat Asherie and solo improvisation by the dancers
Dancers
Ephrat "Bounce" Asherie, Elizabeth Burke, Warren Craft, Michelle Dorrance, Leonardo Sandoval, Caleb Teicher, Byron Tittle, Nicholas Van Young
Musicians
Donovan Dorrance, Aaron Marcellus, Gregory Richardson