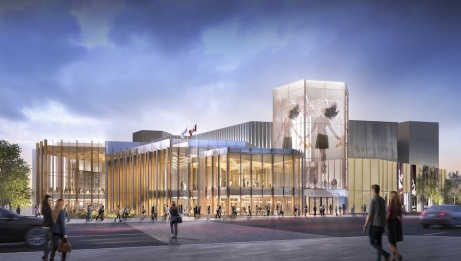 Bilingual

≈ 1 hour and 30 minutes · No intermission
The architectural rejuvenation of the National Arts Centre (NAC) is underway, and we are working closely with our architects Diamond Schmitt and our builder, PCL Constructors Inc. to keep the NAC open during the renovation. Like any major construction site, this one won't always be easy for our patrons, and that's why we are inviting you to come to our Annual General Meeting to ask questions, and let us know whether we are answering all of your concerns.
When the "new" NAC opens on Canada Day in 2017, it will have large, light-filled and accessible public spaces that offer breathtaking views of the city, improved performance spaces and a magnificent new transparent entrance on Elgin Street. It's an extraordinary project, and represents a major vote of confidence from the Government of Canada in this 47 year old institution.
So please join the NAC's President and CEO, Peter Herrndorf, the Chair of the NAC's Board of Trustees, Adrian Burns, Principal Architect Donald Schmitt, and NAC Project Director David McCuaig for a town hall meeting about what to expect until the grand opening on July 1, 2017.