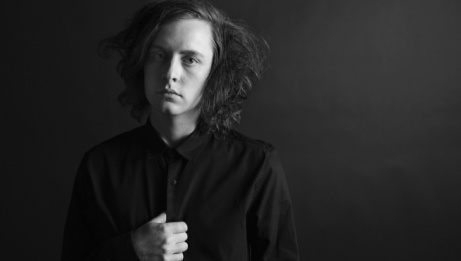 Music
Singer/Songwriter
Folk
Canadian
I've been writing songs and playing shows since I was nineteen, almost six years now. Every step of the way there has been an incremental amount of excitement and success. Playing a new city for the first time, getting a nice review on that website, printing my first record on vinyl. All of it was thrilling and all of it hopefully on some path to making a life in music.
I wrote and recorded a record in 2013 called Someday, The Moon Will Be Gold and it was an extremely personal, significant and substantial record for me. That record chronicled my experience of coming to terms with my mom's passing five years earlier. In the year since it came out I got to tour the world playing my songs, I got nominated for the Polaris Music Prize, I snuck into the Vatican undetected and I got my rental car impounded in Vienna. I told stories about my mom every night and I felt like I shed myself of the hardest thing I ever went through in my life.
The challenge with writing a record that is so personal and so autobiographical is how do you follow it up? How do you make something new that still means as much to you?
In a few months I have a new EP coming out called Avalanche. These are effectively the first six songs that I wrote after STMWBG and I think of it as a "mini record," not just another EP between full-lengths.
When one part of your life starts to go well, the thing you are never prepared for is all the other parts usually starting to go bad. I toured a lot in 2014 and touring is a hard way to live for a lot of different reasons. It puts a strain on any sort of normalcy around you. It stops your life at home in time while you are constantly making a new home each day. I had multiple band members quit last year. I grew more and more distant from my home and my family. I neglected most of my relationships. All of my present was falling apart while I was revisiting my past every night on stage. This mini record is about that.
The first line on Avalanche is - I was born an orphan in the morning dew. That felt like a definitive way to start a new chapter after Someday. That song and this EP is about anxiety, nostalgia, the past, the future, it's basically about being in your early 20s and not knowing what the fuck your life is. Left Behind is about me taking stock of all the people around me and of myself. A Long Time Ago looks back on an adolescence that now seems so far away and the the last song on the EP, Baby Blue, was written as a sequel to the final song on STMWBG - Amelie. I wrote Amelie from the perspective of a boyfriend my mom had when I was young. It was the last song I wrote for that record and it capped off the writing of that album and that chapter of my life. I tell that story every night on stage. Baby Blue was written from my mom's perspective to me. It's my favourite song on the record.
I think the biggest shift with this EP though is the sound of it. Being ambitious as a musician, being ambitious about what you want your career to look like is always seen as a dirty thing. I've always thought of the music I make as pop music, now maybe it actually sounds a little bit more like pop music. The drums are bigger on this EP, less guitars, more keyboards, a chorus or two, but still me, still my lyrics. The saying of "doing the same thing twice but expecting different results is the definition of insanity" really works for making records. I never want to make the same record as the one before it, and I'm ambitious about my career. All of my favourite artists are the biggest in their genres and aspiring to that (and inevitably falling short) is not insincere or impure, it's honest. The reality is, if you want to reach those goals your music has to sound like it could reach those goals. I'm being unabashed here about wanting those things. If it doesn't work that's fine, but I am being open about trying for it. Hopefully you'll hear that.
Talk soon. Kalle.