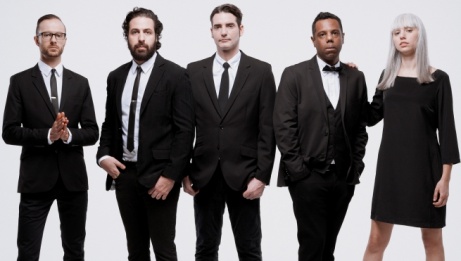 The Dears, a critically acclaimed "orchestral-pop-noir-romantique" rock'n'roll band from Montréal, is the lifework of Murray A. Lightburn. Son of a jazzmanturned-preacher, Lightburn's attunement to songwriting was shaped equally by nineties rock and a broad tableau of gospel, soul, and pop music.
The band formed in 1995 and released their first album, End of a Hollywood Bedtime Story, in 2000. Their orchestral, dark pop sound and dramatic live shows cemented The Dears at the foundation of the then-emerging Canadian indie renaissance. In 2001 and 2002, they released the EPs Orchestral Pop Noir Romantique and Protest, respectively, as well as a collection of unreleased songs, Nor the Dahlias. In 2003 they released their second full-length album No Cities Left, and a string of highly anticipated shows at SxSW '04 launched their international career. Gang of Losers was released in 2006, and was well received by the press.
The Dears' music has been described as a cross between The Smiths and Serge Gainsbourg with Lightburn's singing voice being likened to Morrissey as well as Blur's Damon Albarn. The complexity of the music and arrangements has also been compared to Radiohead, Jethro Tull and early Genesis. The Dears' powerful live shows have been described as: "…the sonic equivalent of seeing the face of God."
Gang of Losers was named to the Short List for the 2007 Polaris Music Prize, and the follow-up Missiles was released in 2008. The Dears' fifth studio album, Degeneration Street, was a Long List nominee for the 2011 Polaris Music Prize.
The themes covered on their sixth album, Times Infinity Volume One, are generally "Romantique" — familiar territory for The Dears; unconditional love, longing, and a debilitating fear of loneliness. Written over a two-year period, the album was finally committed to audio at the luxuriant Revolution Recording (Toronto) and Thee Mighty Hotel2Tango (Montréal) in 2014. The sound is described by the band as "both refined and sloppy. At times chill, always trill." The performance that most captures this characterization is, perhaps, the single, "I Used To Pray For The Heavens To Fall."
The Dears are currently putting final touches on Times Infinity Volume Two, to be released soon after the release of Volume One.