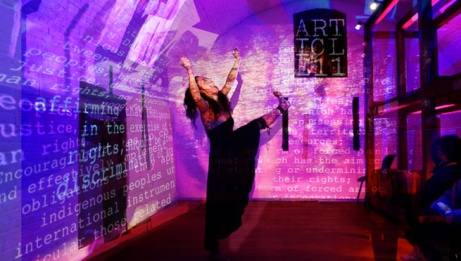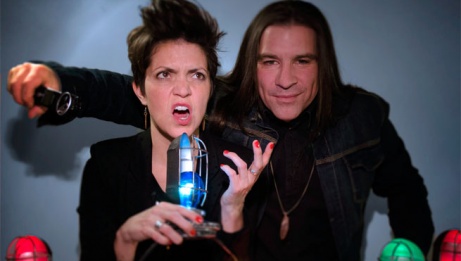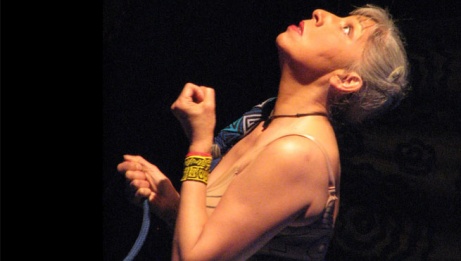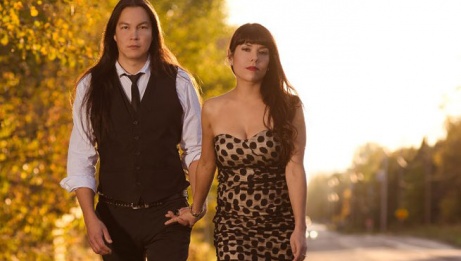 DECLARATION is a celebration of Indigenous peoples' right to engage in the creation and evolution of arts and culture, as asserted in Article 11 of the 2007 United Nations Declaration on the Rights of Indigenous Peoples. Created by Toronto-based ARTICLE 11, DECLARATION is an immersive, live, sound and image installation and performance-creation lab. It offers the rare opportunity to witness established Indigenous artists mid-process as they take risks and explore new approaches and collaborations in a responsive, interdisciplinary environment.
ARTICLE 11 founders/directors TARA BEAGAN (Ntlaka'pamux/Irish) and ANDY MORO (Euro/Cree) have both been named among NOW Magazine's top 10 theatre artists. Beagan is a widely produced writer, performer, and director, and a former playwright-in-residence at the National Arts Centre. Moro is an internationally recognized set, lighting, and projection designer and a core member of the creative team at the Banff Centre for the Arts' Indigenous Dance Residency.
SANTEE SMITH is Onkwehon:we from the Mohawk Nation, Turtle Clan from Six Nations of the Grand River. She is a multi-award-winning, multidisciplinary artist and the founder/director of Kaha:wi Dance Theatre.
RAVEN KANATAKTA and SHOSHONA KISH, the dynamic songwriters behind JUNO Award-winners DIGGING ROOTS, bring stunning guitar playing and soulful vocals to roots, blues, and more. AANMITAAGZI (He/She Speaks), co-founded and directed by PENNY COUCHIE and SID BOBB, supports a thriving arts community in Nipissing First Nation and surrounding communities.
MICHELLE LATIMER is an accomplished Métis/Algonquin filmmaker, actor, and curator whose work has been described as "visual poems exploring humanity." MONIQUE MOJICA is a Kuna and Rappahannock actor and playwright based in Toronto. Her published plays include Princess Pocahontas and the Blue Spots and Birdwoman and the Suffragettes. JESSE WENTE (Ojibwe) is seen regularly on TVOntario's Saturday Night at the Movies, and is the director of film programming at TIFF Bell Lightbox.