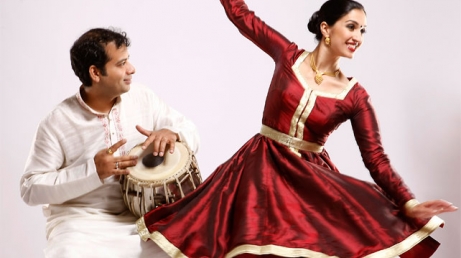 Featuring an alluring fusion of tabla, sitar, and movement, In the Darbar explores the signature qualities of Kathak dance – sparkling pirouettes (chakkars) and intricate footwork – combined with rhythm and melody to produce a complete work of art.
BAGESHREE VAZE is a brilliant and expressive dancer who was named an "ubbharta sitara" (rising star) by MTV India. She has mesmerized audiences and critics alike in major festivals across Canada and abroad with her lyrical blend of Indian dance and Western forms. VINEET VYAS, a world-renowned tabla artist, was born into a family of traditional musicians and has studied and appeared with some of India's foremost classical masters. RAJIB KARMAKAR is undoubtedly one of the finest sitar players today, performing all over the world and effortlessly blending improvisation with technical expertise.
The expressive beauty of In the Darbar confirms that in every song there is dance, and in every dance there is music.