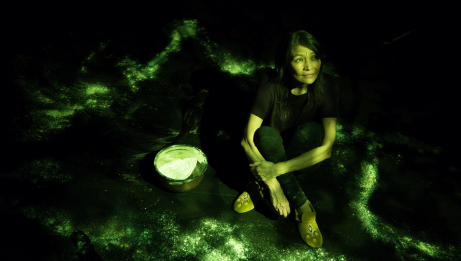 In-person event

English

Ages 14+

Approx. 55 minutes
| Performance options | Start time | Language | Availability |
| --- | --- | --- | --- |
| Friday, April 12, 2024 | 11:00 am | English | Seats available |
In this autobiographically inspired piece, Inner Elder recounts one woman's transformation from a young girl navigating the shambles of her family life to Gemini Award-winning actor and artist. Michelle Thrush weaves the seemingly disparate anecdotes from her life into powerful and hilarious testimony that will open your eyes, sear your heart, and have you laughing out loud.
The first section of the play, rooted in a place of truth and historical perspective, explores how a child interprets, navigates, and internalizes culture, identity, and the challenges of growing up Cree in Alberta during the 1970s and 1980s. We are reminded that imagination can be a powerful vehicle for hope and survival in a child's quest to find the answers to the questions: Who am I? Where do I come from? Where am I going? Where do I belong?
During the second half of the play, we are introduced to a universal Kookum (grandmother) figure, an Inner Elder symbol that represents strength, ancient knowledge, and the stories that are passed down through generations. This hilariously witty and mischievous character will not only have everyone laughing but reiterates the importance of coming together to learn from one another in a place of love.
This powerful award-nominated one-woman show beautifully communicates how the generational strength of the Inner Elder plays an important role in healing the Inner Child within.