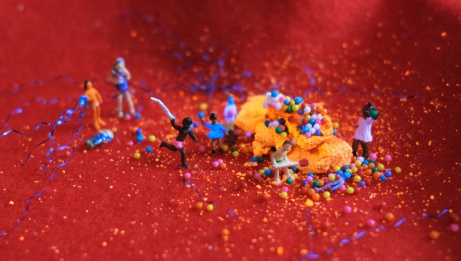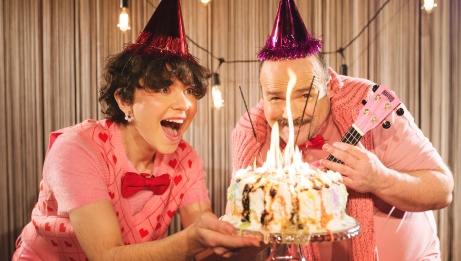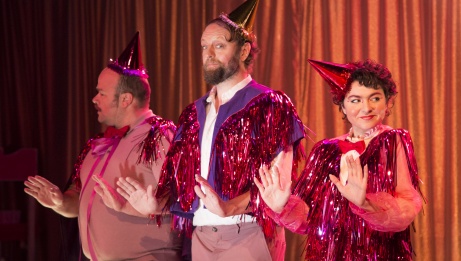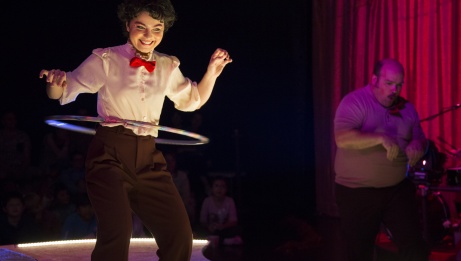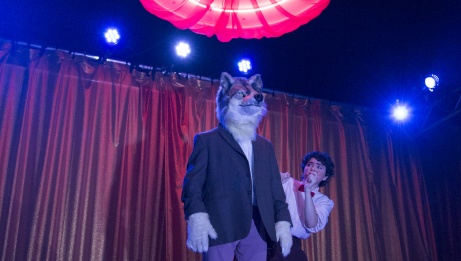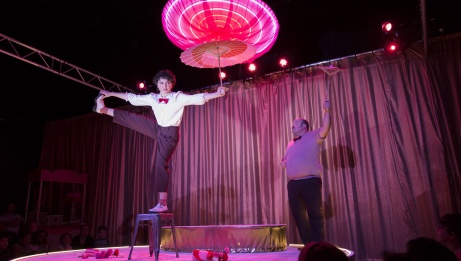 In-person event

Français

Ages 4-8

Approx. 45 minutes
| Performance options | Start time | Language | Availability |
| --- | --- | --- | --- |
| Wednesday, October 25, 2023 | 10:00 am | French | Seats available |
| Wednesday, October 25, 2023 | 12:30 pm | French | Seats available |
| Thursday, October 26, 2023 | 10:00 am | French | sold out |
| Friday, October 27, 2023 | 10:00 am | French | sold out |
You're cordially invited to keep your shoes on when you climb on the cake. Yes, you read that right: to celebrate its 50th birthday, the Le Carrousel theatre company has prepared a fabulous cake/stage and a wild party that thumbs its nose at rules and conventions.
For everything to be perfect, we'll need: a one-person band, a totally crazy set, and, of course, popcorn! Is that allowed in the theatre? Only if you chew it loudly, obviously! It's also essential that the show start at the end, because the end is the best part, right? In short, you've got it, we're having fun shaking up the idea that children and audiences should always be well behaved: taking our assumptions apart to get a better idea of how they work.
Parents, fear not: the two joyfully offbeat presenters—part pirates, part circus artists—will be on hand to monitor all this festive disruption! In a series of fantastic tableaux, they'll blow a healthy puff of dissidence powder onto the audience.
In French ● Ages 4+ ● Intimate show
Digital project: DÉBRIDER NOS CORPS EN VIE

Discover audio capsules and pre-show activities on Le Carrousel's microsite! (Available in French only)