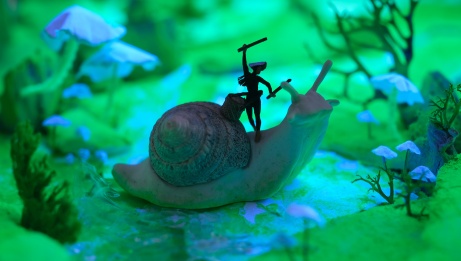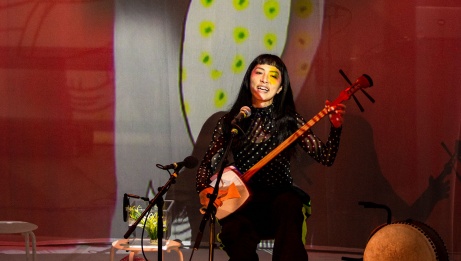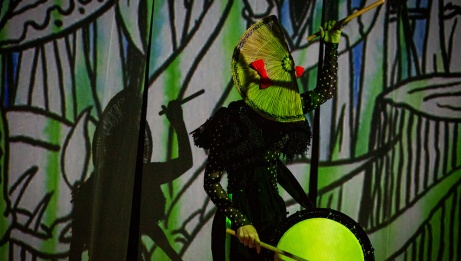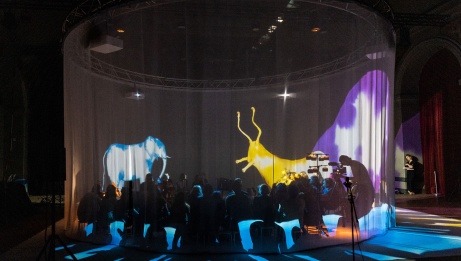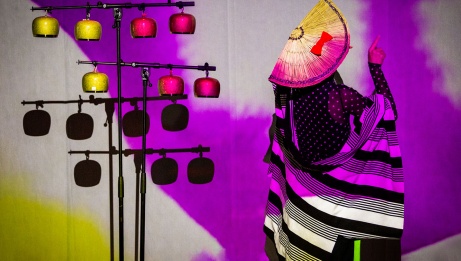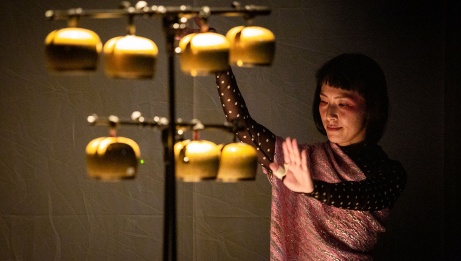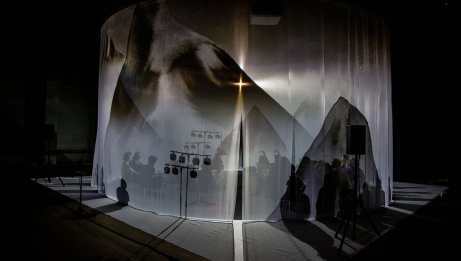 In-person event

Ages 6-11

Approx. 40 minutes
| Performance options | Start time | Language | Availability |
| --- | --- | --- | --- |
| Wednesday, February 14, 2024 | 10:00 am | Without words | Seats available |
| Wednesday, February 14, 2024 | 12:30 pm | Without words | Seats available |
| Thursday, February 15, 2024 | 10:00 am | Without words | Seats available |
| Thursday, February 15, 2024 | 12:30 pm | Without words | Seats available |
| Friday, February 16, 2024 | 10:00 am | Without words | Seats available |
| Thursday, February 15, 2024 | 12:30 pm | Without words | Seats available |
"Like Japan, but in a dream"
Take a seat inside a fantastic lantern/stage, illuminated by spellbinding video projections and brought to life by the music, singing and dancing of incandescent Japanese-born performer Tsubasa Hori.
This virtuoso percussionist has been perfecting the art of taiko since childhood: when she beats that traditional drum, you can almost hear the heartbeat of a thousand-year-old Japan. But just like her native land, Tsubasa is good at combining the Old and the New, and she has a lot of fun using some surprising sampling machines to tinker with the sounds of her voice and her instruments.
A lantern also means moving images: on the curtains that surround the space, luminous creatures and plants appear, as if they've escaped from a book of coloured prints. Be on the lookout for the elephant and the giant snail!
Without moving a muscle, get ready to travel, in images and music, through a kaleidoscopic world invented by a multi-instrumentalist artist ... who's also a bit of a magician.
Without words ● Ages 6+ ● Intimate show
This show is part of the BIG BANG Festival, two fun-filled days of sound experiments for ears of all ages. At the NAC, Saturday, February 17 and Sunday, February 18, 2024.