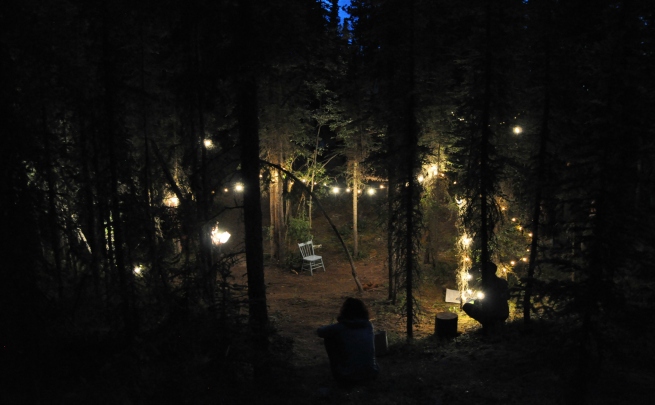 Theatre in the Bush
Jon Gelinas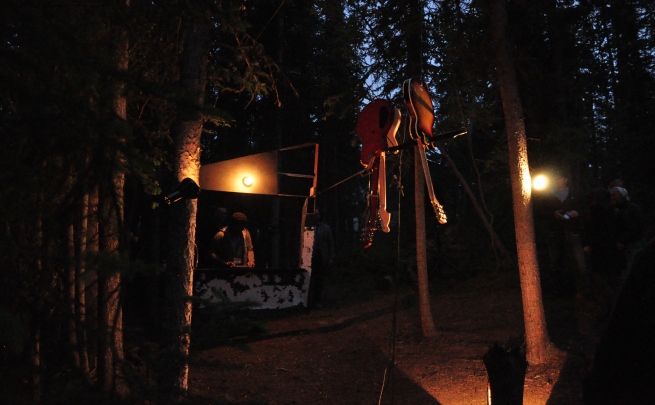 Theatre in the Bush
Jon Gelinas
Traditionally set deep in the northern forest, Theatre in the Bush is an annual Whitehorse summer sell-out that takes the ritual and mad magic of a bush party and distils it into an interactive theatre event. Audience members are led through the woods to a remote location where innovative Yukon artists present playful, daring creations with a healthy dose of folksy northern charm. Some artists come with an idea, and others let the environment influence what they create. It's a celebration, a meeting place, and a taste of Yukon theatre, music, and food all rolled into one.
In a tiny studio in the Yukon's boreal forest, RAMSHACKLE THEATRE creates outdoor theatre events, cardboard puppet shows, and original plays for Yukon and national audiences. For Canada Scene, Theatre in the Bush features an ensemble of Yukon and local artists in a unique theatrical collaboration ­– minus the midnight sun, but magical, playful, and inspired all the same.
Original concept and direction by Brian Fidler.
Theatre in the Bush features:
Miche Genest - chef, author and storyteller
Geneviève Doyon - theatre artist, playwright
Mobius Collective:
Jocylyn McDowell
Barb Hinton
Nate Wood
Jordy Walker - sound installation artist
John Doucet
Lisa L'Heureux
Emily Pearlman
Ken Anderson
Jon Gelinas
Tara Kolla Hale
Emily Woodruffe
John Streicker
Musicians:
Ryan McNally
Brigitte Dejardins
FREE TRANSPORTATION TO MACKENZIE KING ESTATE BY BUS
Travel worry free to the Theatre in the Bush experience at the Mackenzie King Estate! Complimentary return transportation is available when you purchase a ticket to attend Theatre in The Bush or a dinner and show package to the same event.
PRE-SHOW DINING AT T&CO., MACKENZIE KING ESTATE TEAROOM*
Enjoy a 3-course table d'hôte at the Tearoom located in the beautiful Mackenzie King Estate. Be steps away from the Theatre in the Bush event taking place at 8 PM.! Seating is limited. Reservations at the tearoom in advance are mandatory. You can reserve by phone as of May 1 only.

Theatre in the Bush Special Menu
Potage Vichyssoise
* vegetarian and gluten free but not dairy free
_______
Papineauville Goat Cheese Tart | Heirloom Tomatoes | Juniper Farms Salad
* vegetarian
or
Bison Burger | Sauce 544 | Aïoli | Juniper Farms Slaw
* sauce 544 is a specialty of T & CO. made from parsley, aromatics, cornichons, capers, garlic, Parmiggiano Reggiano, lots of olive oil and sea salt
______
Pouding Chômeur | Älska Maple Syrup | Chantilly Cream
* gluten free available in all dishes
* summer fruit will be available for anyone who does not wish the dessert on the table d'hôte
"No matter what the content of the production, our starting place is: How do we create this work physically with what we have at hand?"

Brian Fidler, Ramshackle Theatre
| Mon | Tue | Wed | Thu | Fri | Sat | Sun |
| --- | --- | --- | --- | --- | --- | --- |
| | | | | | | |