TD Ottawa Jazz Festival
Myra Melford's Snowy Egret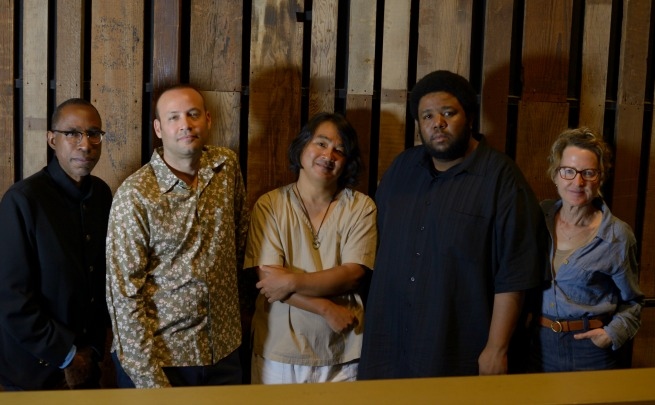 Featuring:
Myra Melford - Piano, harmonium
Liberty Ellman - Guitar
Ron Miles - Trumpet
Stomu Takeishi - Acoustic bass guitar
Tyshawn Sorey - Drums
Since its debut in 2012, California-based pianist Myra Melford's quintet—with trumpeter Ron Miles, guitarist Libery Ellman, bassist Stomu Takeishi and drummer Tyshawn Sorey—has drawn rave reviews for its multi-textured music. A Chicago native, Melford weaves together strands of inspiration taken from the blues, North Indian music and free improvisation. Her compositions reflect her lifelong journey of spiritual discovery and flow between highly lyrical passages and moments of utter abandon. Her work has earned Melford some of the highest accolades in her field. In 2013 alone, she was named a Guggenheim Fellow and received the Doris Duke Foundation's Performing Artist Award and a Doris Duke Residency to Build Demand for the Arts for her efforts to re-imagine the jazz program at San Francisco's Yerba Buena Center for the Arts.The members of Snowy Egret are among the most sensitive and responsive instrumentalists in jazz, and apply a wide range of techniques to Melford's music.
Here's how to access the Back Stage:
Arriving by car/parking
Please park in P2 in the K, L, M sections. Exit near the Rideau Canal and follow the pink signs that say Back Stage and the helpful staff who will direct you.
Arriving by foot/public transit
We recommend you use the Mackenzie King Bridge entrance. Follow the signs to the NAC entrance then look for the pink signs for Back Stage. Helpful staff will be there to direct you.
Parking for patrons with mobility issues
Please park on P2 in the K, L, M sections and exit near the Rideau Canal. Pink signs and staff will help you get to the Back Stage.
READ MORE